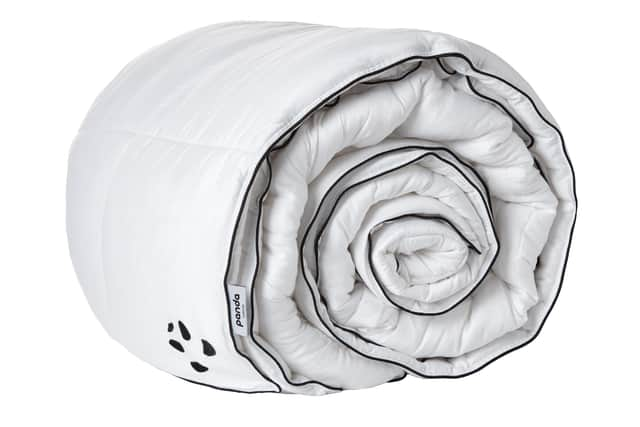 Cocoon yourself in a soothing duvet and prepare for the perfect night's sleep…
If you're struggling to relax after a stressful day, there are a number of ways you can chill out and get a great night's sleep with a few careful tweaks to your bedroom.
We're a tense nation at the moment – according to a July 2021 survey, one in five people in the UK feel stressed more days a month than they don't and one in 14 UK adults (seven per cent) feel stressed every single day.
Stress and anxiety can often lead to sleep problems: according to the Sleep Foundation, "because stress and sleep problems share such a reciprocal relationship, addressing one of these issues can often lead to improvements for the other".
So how can you relax after work and make your bedroom a haven to relax in?
Decluttering your room will help you to feel calmer and as if you have space to breathe, so move out any extra bits and bobs that can easily be stored elsewhere to keep things simple and streamlined.
Chill out and get a great night's sleep with a few careful tweaks to your bedroom – including Panda London's bamboo duvet
A neutral, unfussy colour scheme is the best way to avoid overloading your brain and help you to unwind after a busy day.
Your bedroom should be all about relaxing your senses, so low-level lighting - preferably from lamps - can be much easier on your busy brain than harsh overhead glare.
The right bed, and bedding, can completely transform your bedroom and your sleep. Panda London's cloud duvet is the ultimate way to relax and indulge in overnight rejuvenation. Wrapped up in snuggly bamboo, stress and worries melt away.
Sensuously soft and naturally hypoallergenic, Panda London have replicated the feeling of a down duvet. Hence, it moulds to your body without a feather in sight – making it a guilt-free option for animal lovers.
With its strong, silky fibres, bamboo is naturally softer than the finest Egyptian cotton and Panda London have harnessed the fluffy power of bamboo to bring the freshest, softest bedding to your bedroom.
The Cloud is filled with 50 per cent bamboo and 50 per cent Nano-Microfibre™ (made from recycled water bottles), meaning it is completely hypoallergenic and antibacterial, helping to repel dust mites and other nasties.
With a 100 percent bamboo cover finished with stylish black piping, The Cloud is easy to machine wash and dries naturally in half the time of regular duvets, bouncing back to its original shape.
It's ideal for allergy and sensitive skin sufferers, as well as anyone who wants a blissful night's sleep, snuggled under the softest, most luxurious quilt. And it certainly lives up to its name, offering a lightweight covering to keep you cool when you need it and help your body breathe.
Panda London, which offers a range of award-winning bamboo homeware products, is on a mission to be as eco-friendly as possible and provide the highest possible standard of products. Not only is all its bamboo sourced from approved forests, but the company is working as hard as it can to reduce the environmental impact at every stage of its products' lifecycles.
Their bamboo bedding can be washed at low temperatures and dry rapidly without the need for fabric softeners or ironing, making it a low-energy option too.