All 10 young Glaswegians awarded with 'Inspire Awards' at Scottish Parliament last week - featuring Young Youtuber, Emerging Writer, and more
Congratulations to these 10 inpiring young Glaswegians!
Watch more of our videos on Shots!
and live on Freeview channel 276
Visit Shots! now
Ten young people from Glasgow have been awarded for excellence in their respective fields.
The Inspire Awards 2023 is a new initiative from the British Youth International College (BYITC), which was founded in 2015 by Glasgow-based academic and educator Dr Rashmi Mantri to help young people learn and improve their abilities in maths.
In total, 37 awards were given out and after the awards, the winners, their families, judges and all other attendees, were treated to dinner at nearby German Donner Kebab, one of the sponsors of the event.
Hosted last week (Tuesday, June 6), the ten winners from Glasgow and their categories were:
Ojas Sunil Maniyar, aged 9, who won the Cricket Champ Award
Aadi Chavan, aged 6 who won the Adventure Champ Award
Namra Sayyed, aged 9, who won the Best Innovator Award
Zoya Ansari, aged 7, who won the Emerging Writer Award
Vidhi Chanyal, aged 15, who won the Young Author Award
Vihaan Mendiratta, aged 13, who won the Young YouTuber Award
Rhythm Khokher, aged 15, who won the Dance Superstar Award
Aaima Khan, aged 9, who won the Versatile Bright Star Award
Advik Mittal, aged 11, who won the Powerhouse Performer Award.
Mitali Peecha, aged 11, who won the High Flier Award
Dr. Rashmi Mntri said:"I am so proud of all these marvellous young people and the range of abilities in the room is truly humbling. We had so many high-quality entrants that the judges had a very tricky job picking the winners.
"We wanted to create a special night to celebrate diversity and inclusion and recognise young people from all backgrounds who are making all of our futures' brighter by learning and excelling in whatever they choose to do.
"We've had everything from solar powered fans to content creators on YouTube and outstanding singers and dancers, not to mention the STEM stars. Well done to everyone who won as you have set the bar very high for next year's awards."
Ojas Sunil Maniyar - Cricket Champ
Ojas, who attends St Patrick's Primary School, started learning cricket at the age of five, joined the Accies Cricket Club at eight and started playing competitive cricket.
Last year, elected captain of his team, in matches conducted by Western District Cricket Union, he won best bowler and best batsman awards of his club. Ojas's ambition is to be part of the National Cricket Team.
Aadi Chavan - Adventure Champ
Aadi, who attends Mosshead Primary School, Bearsden, has been an inspiration for many kids for his biking/cycling skills and hiking / Mountain climbing, at the age of 4 he completed a 33 km bike ride from Glasgow to Loch Lomond, and has climbed a Munro, Ben Lomond at age of 5, and has undertaken a great deal of hiking and biking.
Namra Sayyed - Best Innovator Award
Namra, who attends Mearns Primary school, is a coder, and part of the Dress code club. She is very enthusiastic about coding and runs a lunch time school coding club. On International Women's Day she, along with her Coding club friends, presented their project at a Women Tech Maker Scotland conference at the University of Glasgow.
Her main expertise is in Scratch but she has also undertaken a mini project using Micro Bot to create badges and creativity on T-shirts. Her aim is to inspire other girls and raise awareness about Computer Science and Coding in the world of tech and close the gender gap in technology.
Zoya Ansari - Emerging Writer Award
Zoya, who attends Knightswood Primary School, is a creative youngster who loves writing short stories and also commits her day-to-day experiences in a diary. She has been writing stories since she was 6 years old.
Vidhi Chanyal - Young Author Award
Vidhi, who attends St. Luke's High School, wrote her first novel when she was 12 years old, We Walked Faster, an emotional Victorian era tale, and has written several more novels throughout the years, all of them exploring different time periods and plots. Vidhi's poem, 'The Graveyard' was published in 2021 as part of "The Big Poetry Party - A Celebration of Verse."
Vidhi's fourth novel Arise has been submitted for The Bath Novel Award 2023. An historical fiction and fantasy story set during the harrowing Salem Witch Trials. Her writing is characterised by its creativity, depth, and originality. She has a unique voice and perspective that sets her writing apart from others. Her work has impressed both her peers and her teachers.
Vihaan Mendiratta - Young YouTuber Award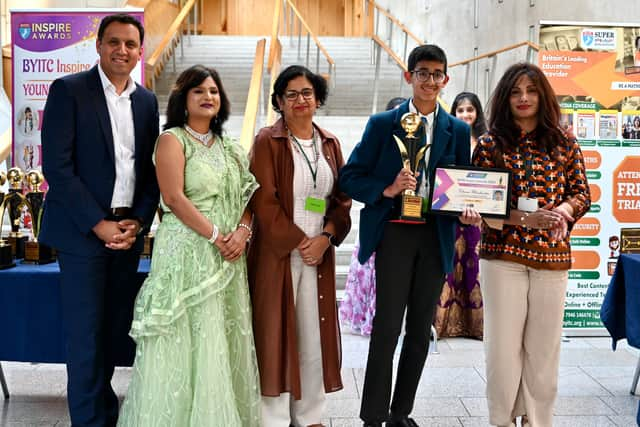 Vihaan, who attends High School of Glasgow, may be only 13 but he has his own YouTube channel, VM Studios and over 11,000 subscribers from all over the world. He started it just 3 years ago and learned how to edit and make his own videos. Some of his videos have over 900,000 views and 7,600 likes.
His passion began by making dinosaur videos, where he managed to attract thousands, and even a million dino-lovers, who chat regularly with Vihaan, provide opinions and support the videos he makes.
Rhythm Khokher - Dance Superstar Award
Rhythm is a dancer who has been dancing since she was 3 years old. She attends St. Ninian's High School and is currently studying the Indian classical dance form – Bharatnatyam at the Abhinaya dance academy.
She has reached Grade 7 of Bharatnatyam, having completed Grade 1 to 6 at the Oriental Fine Arts Academy of London (OFAAL). As well as Bharatnatyam, Rhythm is also accomplished in other dance styles such as Bollywood and jazz. Rhythm is also studying Hindustani classical singing and guitar.
Aaima Khan - Versatile Bright Star Award
Aaima, who attends Merrylee Primary School, loves reading books and discussing them with friends at school and at her local library. Sometimes she practices reading them to camera, since she has ambitions to become a YouTuber where she will review books she likes.
Aaima also enjoys writing stories and poems of her own, which she recites to friends and family. She is also into caring about the environment and wants to help save our planet earth by learning how the planet works. Her ambition is to write about this to teach others.
Advik Mittal - Powerhouse Performer Award
Advik, who attends St. Patricks Primary School, is a multi-talented skilful kid with outstanding results in Sports – Chess, Badminton, Cycling, Maths, Science, Public speaking, and art and creative work.
He has represented Scotland in multiple occasions at different international events in Chess and is the youngest person in the UK to complete the Supermaths National Abacus Mental Maths Programme. He recently won the International Maths Olympiad.
Mitali Peecha - High Flier Award
Mitali, who attends Kelvinside Academy, won the Scottish chess under p5 competition and is also passionate about dancing. She has taken part successfully in many competitions. Mitali completed Abacus stage 11 level and is consistent and accurate when undertaking complex calculations.
The awards were overseen by a high-profile judging panel including Professor Eleanor Shaw OBE, Associate Principal of the University of Strathclyde, and entrepreneur Dr Poonam Gupta OBE, Chief Executive of PG Paper, an international paper company based in Inverclyde, Scotland.