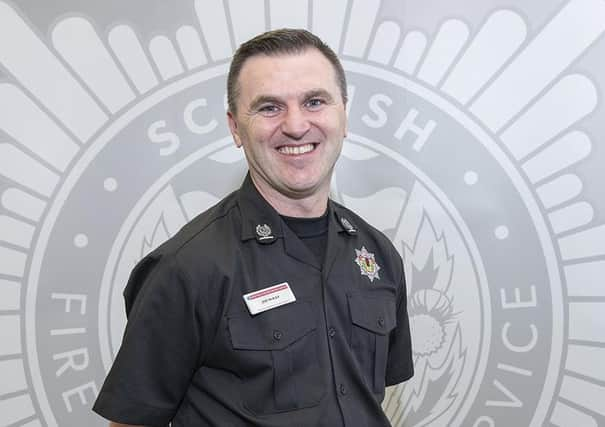 Area Commander Joe Mckay was recently appointed as the Scottish Fire and Rescue Service's Local Senior Officer for Argyll and Bute, East Dunbartonshire and West Dunbartonshire.
A veteran of more than 23 years, AC McKay started his career as a firefighter in 1997 and has taken charge of various largescale incidents including the significant fire at Bearsden's Glasgow Golf Club in September 2018.
Having previously served as a Station Commander in both Glasgow and Clydebank and spent time working as a Deputy Commander for the City of Glasgow, AC McKay is relishing the challenge of his new role.
He said: "I'm originally from Kirkintilloch in East Dunbartonshire, so I'm delighted to be appointed the Local Senior Officer for this region...it's a real privilege.
"Covering both East and West Dunbartonshire as well as Aryll and Bute will be a challenge, but it is one I am enjoying, and I am committed to working towards reducing risk and helping to keep people safe."
While he has attended a plethora of incidents down the years, taking charge at the fire which took hold of the world's ninth oldest golf club is one which lingers in AC McKay's memory.
He reflected: "By the time I arrived on scene this was already a large and rapidly-spreading fire in this historic building.
"The fire went into the next morning, but the crews on the ground did brilliantly.
"There were no injuries and we were able to salvage several historical items, including a famous putter used by Bobby Jones which is priceless.
"We managed to save most of the priceless artefacts."
With Bonfire Night fast approaching, AC McKay is keen to stress the dangers of hosting a private firework event.
He said: "Bonfire Night this year will naturally be a different experience for all of us with COVID-19 leaving public displays cancelled.
"We know as a result that people may decide to use fireworks in a private setting within their garden.
"But I must stress the importance of being fully aware of the risks presented by fireworks before purchasing any items.
"Fireworks can pose a significant threat to spectators - especially children - and anyone using them should read all instructions and safety advice prior to use.
"Our Fireworks Code is here to help keep you and your loved ones safe and should be first your port of call if you are considering buying fireworks."
The SFRS often sees a spike in deliberate fire-setting during this period and AC McKay is asking communities to consider the impact of their actions on Scotland's emergency services.
He added: "There's no doubt that it's a really small minority of people who engage in antisocial behaviour towards firefighters and set fires deliberately.
"But at the same time it can have a significant impact on our work, with fire engines being diverted away from genuine emergencies.
"The safety of our firefighters and of the public is our priority number one, so we will always take a zero tolerance approach to such behaviour and work with our police partners to identify those responsible.
"However we are also very proud of our preventative work within communities across Scotland to promote more positive values to people of all ages."
For more information on how to remain safe around fireworks, visit https://www.firescotland.gov.uk/your-safety/fireworks-safety.aspx