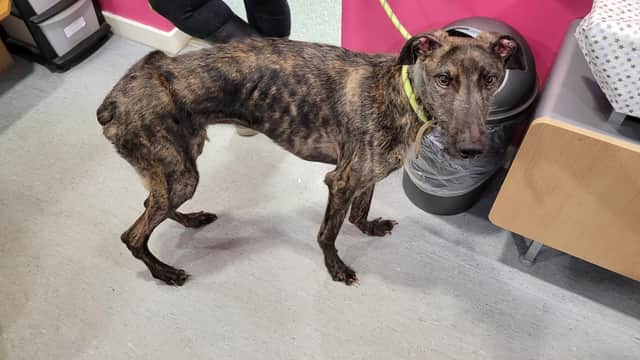 SPCA
A caring member of the public took charge on finding the male Lurcher in Craigneuk's Meadowhead Road. The dog which has a distinctive brindle coat had a recently docked tail.
They took the dog to the Scottish SPCA Rescue and Rehoming Centre in the hope that it could be properly cared for.
Now the animal welfare officers are doing just that but want to find more about the circumstances which left the creature in such a vulnerable state.
Scottish SPCA inspector, Jack Marshall, said, "He is in very poor condition and his tail appears to recently have been amputated. The dog is chipped to an address in Newcastle but unfortunately these details appear to be out of date.
"We be lieve that he may have come from the Bellshill area.
"We are urging anyone who recognises this dog, or has any information to please contact our confidential animal helpline on 03000 999 999.
Meanwhile the charity has another request for our readers who think they could provide the right home for snakes in their care. The centre is currently home to seven snakes for a combined total of 951 days. Some of the snakes need specialist care from experienced owners but several corn snakes will not require the same level of expertise.
For more informa tion call 0300 999 99 9.