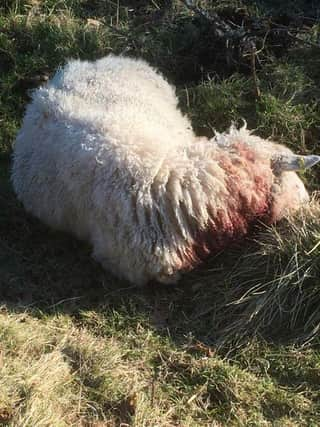 Eugine McCarthy discovered a badly injured sheep in a field near to the Khyber Pass Car Park around 3pm. He said the poor animal had almost certainly been the victim of an attack by a dog.
The pregnant sheep's throat was torn and a gaping wound was bleeding heavily.
Eugine stayed with the suffering animal after calling for help. But sadly the sheep, which belonged to a nearby farm, died from its injuries.
The walker is hitting out at dog owners who will not or are unable to keep their pets under control.
He said: "There are signs at both entrances to the fields here with clear instructions to dog owners to put their dogs on a lead before they enter.
"Sadly some people think this doesn't apply to them, resulting in this sad sight."
When he found the sheep, Eugine called his close friend and fellow walker Eric Forbes.
Eric told the Herald: "I have known the farmer's wife Belle Bain for years, that's why Eugine called me and I told them of the situation. Unfortunately, she contacted me on Tuesday morning to tell me the poor beast had died."
He added: "I get very upset at this type of thing. Eugine stayed with the animal for two hours. It's terrible. One minute the sheep is chewing grass, the next its throat has been torn."
He said he had come across attacks on sheep over the years and was in no doubt this had been done by a dog.
He added: "It must have been quite a big dog too because some of these sheep are powerful beasts. I have tried to lift a few myself before who have been on their back."
Eric frequents the Khyber Pass area of Mugdock regularly himself.
He said: "It's only for a small part that you have to put the dog on a lead here – maybe about 600 yards."
A spokesperson for the Scottish SPCA said: "The consequences of a sheep worrying incident can be far reaching and leave both sheep and farmers emotionally traumatised.
"The Scottish countryside is a fantastic place to walk dogs but a dog's natural instinct is to chase so we would always recommend dogs 
are kept under control on a lead when near any farm animals."