'Rangers fan' Billy Hood hit with 25 years in Dubai jail - ex-WHO chief calls for help
Former WHO Director Anthony Costello speaks out against Billy Hood's imprisonment as family ramps up appeal against his convictions.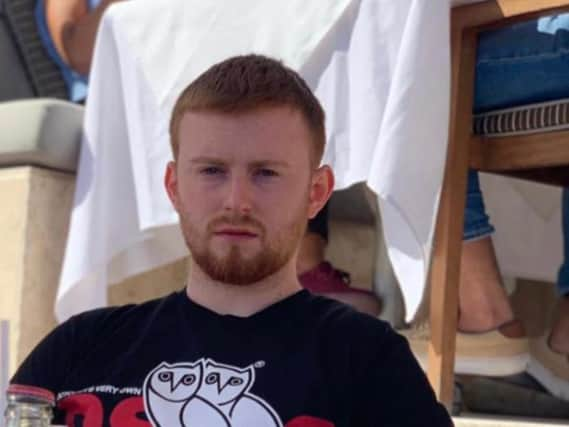 British football coach and "Rangers fan" Billy Hood has been sentenced to 25 years in Jail in Dubai after local authorities discovered four bottles of vape liquid containing CBD in his possession.
The 24 year-old, who is from Kesington in London, was sentenced for trafficking, selling and possessing drugs.
The trafficking charges come from the oils being purchased in the UK.
Hood said in a statement to the campaign group Detained in Dubai that he had not been aware of the oils, but thought they had been left by a friend who visited a few weeks prior to his arrest.
He also said in the statement he was forced to sign a confession after being pressured by the police.
Hood's family are currently working with Detained in Dubai, and a team of lawyers to appeal his convictions. There is a GoFundMe page available which has already raised over £11,000 to help with legal fees in his battle.
Now EX WHO Director Anthony Costello has spoken out against the sentence calling on well known names in the football industry to help get him out:
"I drove Billy and my son to football each Sunday for ten years. He is a football coach, Chelsea +Rangers fan, falsely imprisoned in Dubai. We need Football to help get him out."
His Mother, Breda spoke out expressing her disappointment in the lack of assistance provided by the FCO and has urged the government to include : 'He's always been such a good boy, and has never been troublesome.
"My son does not deserve to lose his whole life over CBD oil that wasn't even his."
The vape oils found in Hood's car on January 31 contained CBD, which is legal in most countries including the UK.
The oil has become increasingly popular over the past few years, and is typically used to relieve pain, anxiety and stress.
A spokesperson from the United Arab Emirates (UAE) Public Prosecution said:
"​The General Directorate for Drug Control (GDDC) received a tip-off that Mr. Billy Hood, possessed quantities of synthetic cannabis oil with the intention of selling.
Consequently, Mr. Hood was apprehended on 2 February 2021 and then charged with drug trafficking, following the search of the vehicle he was driving.
Mr. Hood was found to be in possession of quantities of synthetic cannabis oil, known scientifically as "MDMB-4en-PINACA". The Police search of Mr Hood's vehicle found the cannabis oil, substantial amounts of cash, an electronic hookah, various storage bottles and boxes, and 570 individual cartridges to be used for substance vaping.
Mr. Hood was convicted based on evidence including the items found in his possession, information on his phone, third party statement, and his own confession.
Mr. Hood had access to an English interpreter at all relevant stages, including his questioning, confession, and trial. He was represented in his trial by a defence lawyer whom he selected.
The UAE provided full access to Mr. Hood for UK diplomatic and consular representatives, who visited him in custody.
Mr. Hood has since appealed the initial ruling in accordance with UAE law, and his case is now pending with the Court of Appeal. At all times, Mr. Hood has been treated in accordance with the UAE law and applicable international standards.
The UAE Government considers that drug dealing is a serious crime. Like a number of other governments, it takes a zero-tolerance approach, and this is well known. It seeks to protect its communities from the serious dangers posed by illicit narcotics.
The UN Office of Drugs and Crime (UNODC) has categorized MDMB-4en-PINACA as a Schedule II substance, associated with severe adverse health effects, including fatal intoxications, which has no therapeutic use."