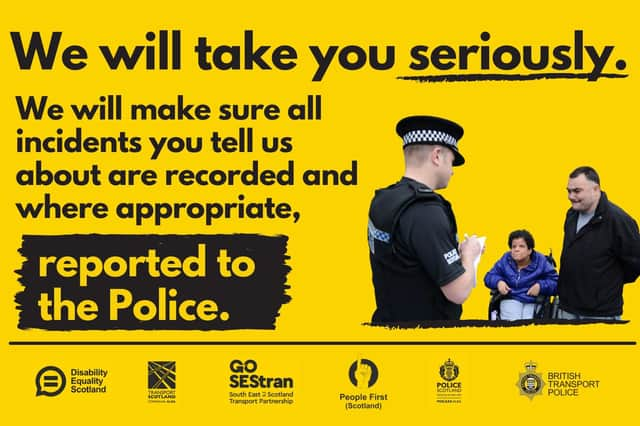 The charter was launched by Transport Scotland, together with Disability Equality Scotland, SEStran, People First, Police Scotland and British Transport Police.
It aims to encourage transport providers, members of the public and other services to support a zero-tolerance approach to hate crime and encourage people to report incidents.
This builds on a pilot initiative that Stagecoach, First Bus and ScotRail operated in December 2019 and January 2020. Initial results demonstrated an increased awareness among transport staff who felt better equipped to recognise and report hate crime that they encountered.
Michael Matheson, Cabinet Secretary for Transport, said: "We want Scotland to have a transport network that is safe for everyone to use and this charter will help to raise awareness of hate crime, in all its forms, and remind everyone that it will not be tolerated."
Emma Scott, Disability Equality Scotland's operations manager, said public consultations indicated people would rather travel on a service that shows its commitment to tackling hate crime.
She added: "This charter provides clear and common standards for challenging hate crime, encouraging reporting with the overall aim of prevention of hate crime incidents on the public transport network."
Barry Boffy, head of inclusion at British Transport Police, said he was proud to help develop the charter.
"This charter is a pledge to not only those who live and work in Scotland, but all those who choose to visit this incredibly diverse and vibrant part of the UK," he said. "We stand together with you."
Gary Ritchie, Assistant Chief Constable at Police Scotland, added: "There is never a justifiable reason to target another person.
"Hate crime is a despicable offence and one which I hope is increasingly viewed with a zero tolerance approach in our communities.
"I very much hope it will encourage anyone who's been a victim or a witness to hate crime, either on our transport network or elsewhere, to report it by calling 101, or 999 in an emergency."