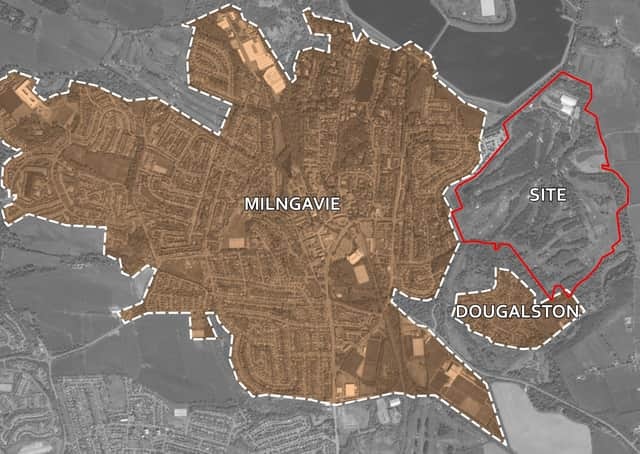 Ambitious proposals are being put forward for land at Dougalston Golf Course at Milngavie which will include new homes, visitor lodges and glamping, as well as a "care village".
Residents are invited to find out more about the 'exciting' new vision for the area.
The owner of the land at Dougalston Golf Course is inviting Milngavie residents to hear more about their plans for outdoor activities on the site.
British Land is set to deliver an online presentation for local residents and businesses at 4pm on Wednesday June 10 and take questions. The video will be recorded and available along with other information on a new website created 
specifically for the project at www.bldougalston.co.uk
The company have submitted their proposals to change the designation of the land currently occupied by the Dougalston Golf Club as part of the development of the East Dunbartonshire Local Development Plan (LDP).
They believe their plans could bring new jobs to the area by helping Milngavie take better advantage of its position at the beginning of the West Highland Way whilst creating a new community with a mix of accommodation.
British Land's proposals include: Retaining nine-hole golf course; New outdoor activities; Commercial hub for smaller retailers
Visitor Lodges and glamping; Care village, Housing to allow families to return to the area.
British Land, a FTSE100 company which owns and operates a number of mixed use places across the UK including the retail parks such as Glasgow Fort just off the M8 and Fort Kinnaird outside Edinburgh, wants to focus on the commercial possibilities on the site, although they say the plans include "a small element of housing focused on two and three-bedroom family homes to allow younger families who might have left the area to return".
David Bloy, Planning Director for British Land, said: "Our submission to the Local Development Plan is the first step in our vision for part of the existing Dougalston Golf Course. If realised, we believe these facilities will create opportunities for a range of outdoor activities and a mix of accommodation providing new facilities for local people and visitors alike."
"Any planning application is likely to be a way off but we want to explain these proposals to local people at an early stage and get their feedback.
"The 15min Webinar I will deliver will give an outline of our plans and the opportunity to ask questions whilst our website, www.bldougalston.co.uk, will be there as a source of information now and in the future."