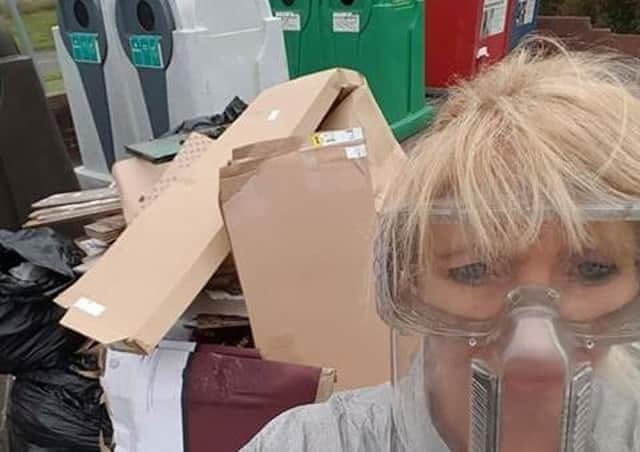 Last week, the Herald revealed East Dunbartonshire Council was considering removing the recycling banks at the car park as the site has become used as a rubbish dump.
But Deborah Graham and a number of other local residents have called for CCTV to be installed there instead.
Deborah selflessly cleared up the mess herself - but days later, the selfish fly-tippers returned.
Now a local councillor has praised Deborah for her efforts and is supporting residents in their battle for action.
Duncan Cumming, Independent Councillor for Bearsden North said: "I can confirm I have visited the site and have seen at first hand the appalling and quite unacceptable 
mess at the recycling site in Baljaffray.
"I have also taken a large number of photographs that clearly demonstrate the significant problem that exists. I have sent these photographs on to the council and have asked what urgent action will be taken to remedy the situation.
"I would also like to thank the lady constituent who rolled up her sleeves and tidied up the recycling site. This really was very public spirited of her, but this should not be required to be undertaken by a member of the community."
Thomas Glen, Depute Chief Executive Place, Neighbourhood and Corporate Assets at the council, added: "We will use all of the measures at our disposal to tackle the irresponsible behaviour of fly-tipping.
"In locations where it persists, measures can be deployed which include regular patrols, case investigation with formal enforcement action and the use of CCTV as a deterrent in appropriate instances."