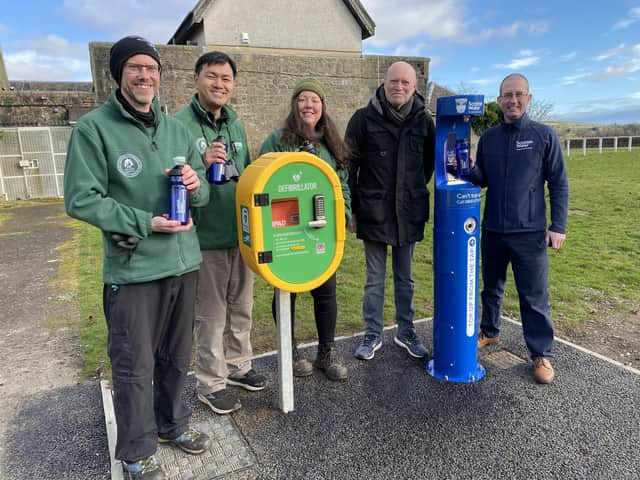 These are the launch of a Top UpTap for thirsty nature lovers, a life-saving defibrillator and the introduction of a much-anticipated ranger service.
Eddy Yacoubian, the group's chairperson said he was delighted to be part of the collaborative efforts of Scottish Water and Friends of Milngavie Reservoir and praised all three innovations at the popular beauty spot.
He said: "This is a great outcome for the reservoirs and will certainly enhance the area.
"We have wanted a ranger service at the site for quite some time, so it's fantastic to see it come to fruition.
" We also welcome the Top Up Tap and the defibrillator, both of which will bring real health benefits for visitors."
The shiny, new Top Up Tap proudly sits alongside the newly installed defibrillator, just near to Commissioners' Cottage at the entrance to the reservoirs via Mugdock Road.
It is a welcome addition to Milngavie's first Top Up Tap which is in the town centre at the start of the West Highland Way.
Since becoming operational in 2019 as part of Scottish Water's Your Water Your Life campaign, the town centre tap has helped save the equivalent of around 146,340 plastic bottles.
The ranger service is a first for Scottish Water and will run as a pilot project at three of Scottish Water's most popular assets – including Gladhouse and Carron Valley reservoirs in Midlothian and Stirlingshire respectively.
The far-reaching new scheme brings three rangers to Milngavie in total.
Davy Gray, Scottish Water's rangers' team manager, said: "We are absolutely delighted that Milngavie Reservoirs was chosen as a location for trialling our new ranger service.
"The aim is to help visitors get the most out of their experience at Craigmaddie and Mugdock reservoirs.
"As well as providing a welcoming presence and a point of contact, the rangers will be patrolling key routes, litter-picking, and offering guidance and assistance to visitors."