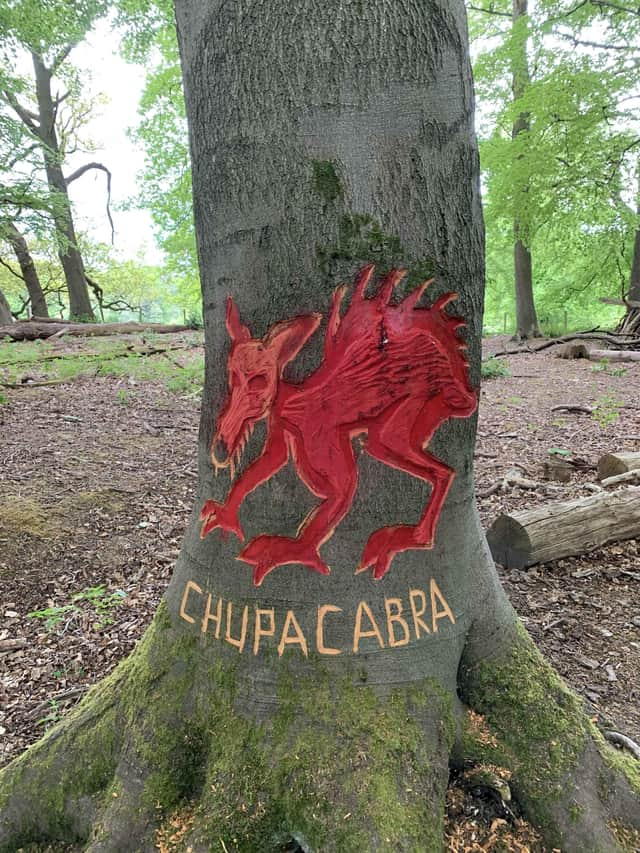 A self-styled woodcutter has been seen at the beauty spot and has reportedly dished out verbal abuse to at least one nature lover who has challenged him.
His actions have prompted complaints to Councillor Agnes Magowan by those who have felt unease at the nature of the carved paintings, depicting alien life and a South American vampire style creature known as a chupacabra or 'goat sucker'.
Councillor Magowan said: "I have walked down the estate for at least 50 years and have never seen the trees vandalised before. I am disgusted and my constituents are horrified."
And it has even emerged that the man involved is actively being encouraged by some members of the public on social media to continue in his quest.
Photographer Bob Hamilton, who took this photo, said: "I gather that the vandalism has gone viral on a local Facebook page and received multiple 'thumbs up'.
"I do fear for the future of humanity if people think that this sort of vandalism is to be liked and encouraged and that risking destroying trees which are several hundred of years old is acceptable.
"The 'artworks' almost take in the full circumference of the trees, which potentially means that these ancient beeches are damaged forever. This is quite clearly a criminal act, as I think I'm correct in saying that, either individually, or as part of an historic estate, these trees have Tree Prevention Orders on them."
The Times has been contacted by several individuals who have been far from impressed by the painted carvings.
Some have seen the man responsible at work, who would seen to have had differing reactions to being interrupted, amidst one report that he had been downright rude.
Another eyewitness said: "I called over to him immediately when I saw this.
"I told him that he was damaging the bark which carries the nutrients to the tree and that if he cut around the circumference the tree will die.
"I also told him that he was in a nature reserve and it is illegal to deface trees.
"He laughed and said it was a lovely strong tree with a smooth bark and perfect to work on – and continued carving.
"The next day, I saw the carvings had bright paint in them."
A North Lanarkshire Council spokesperson said: "As well as spoiling the beauty of the woodland, this can affect the health of the individual trees.
"Although the carving is artistic in nature, it is an act of vandalism and the council will take action against anyone responsible."
A Police spokesman said: "We have received reports in connection with vandalism to these trees in the estate and enquiries are ongoing to find out who may be responsible.
"Anyone with information is asked to contact 101, quoting crime reference number NE06090520."