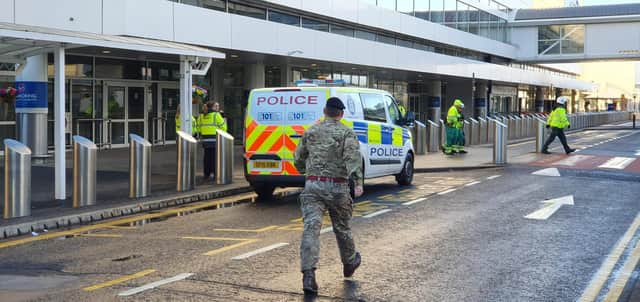 Glasgow Airport has been closed after police were called just after 6am following concern over an item in a passenger's bag.
Passengers arriving at the airport for departing flights have now been evacuated to the multi-storey carpark as Police have set up a cordon outside the airport.
Initially, just the central search area was closed while checks were being carried out - since then the entire airport has shut-down. Check our live blog below for breaking updates on the incident as they come in.
🚨LIVE: Glasgow airport evacuated as suspicious item found in passenger's bag🚨
Key Events
Glasgow Airport closed the central search area after a suspicious item in a passengers luggage
Police attended the scene - shortly followed by the fire service and the bomb disposal unit.
Passengers were evacuated from the airport as the incident remains ongoing - more news on the incident to follow as it breaks
Show new updates
Glasgow Airport gives the all-clear statement
12:11pm
Shortly after crowds began re-entering the airport - Glasgow Airport tweeted this statement.
Crowds begin to re-enter Glasgow Airport as emergency services stand down
12:10pm
Police released a statement as the incident comes to a close - six hours after it was flagged.
An official statement from Police Scotland reads: "Police Scotland have confirmed this morning's incident has been stood down and our staff are now in the process of welcoming passengers back into the terminal and providing any assistance where required."
Salvation Army hand out hot drinks
A Salvation Army van has arrived to hand out hot drinks as passengers are pictured in foil blankets. A few people have been told to rebook flights at other airports, according to an STV reporter.
Police release a second statement
10:20AM
Police Scotland release a statement to the public explaining the situation to the public - with a cordon now in place.
Glasgow Airport release a second statement as check-in closed and passengers evacuated
9:48am
Glasgow Airport released a second statement explaining that passengers have been evacuated and check-in is now closed
First Buses diverted to car park
8:51AM
First buses are diverted to the car park while the incident is ongoing,
Evacuation rumours begin to circulate
8:45AM
Reports of evacuation at the airport began to circulate around 8.45am with passengers asked to move into the multi-level parking structure. The airport remains open, but passengers are being asked to leave parts of the terminal where police are in attendance.
Significant queues begin to form in the airport
7:48AM
Signficant queues begin to form within the airport
Glasgow Airport release a statement
6:46AM
They released a further statement to the press which read: "At approximately 6am, Police Scotland attended the airport due to concern around an item in a passengers bag in the central search area.
"Access to this part of the terminal is currently restricted while checks are being carried out meaning passengers arriving at the airport for departing flights will face delays.
"We are liaising with Police Scotland and will provide an update as soon as we can."
Fire Service and Bomb Disposal arrive on scene
6:00-6:30am
Flights delayed and several cancelled as bomb disposal units and the fire service arrive at the airport.