Glasgow's SNP administration has passed a budget to plug a £49m shortfall after a remarkable council meeting which saw opposition councillors walk out of the city chambers.
Parking and bus lane fines will rise, permits for putting garden waste in brown bins are to be introduced and there will be cuts to opening hours at Tramway and the Mitchell Library.
A £12m chunk was taken out of the spending gap by city treasurer Ricky Bell's decision to lift council tax by 5% from April — which means Band D households will pay £1,499 in 2023/24.
With £6m also taken from reserves, additional savings of £31.3m were still required.
Cllr Bell acknowledged his budget was "deeply imperfect" but said it was "shaped by the most turbulent economic and financial context most people can remember".
It has "gone a considerable distance to protect and maintain those services upon which our communities depend", he added.
There are more tough decisions to come though, with Glasgow's Integrated Joint Board — a council and NHS partnership which runs health and social care — facing an estimated funding shortfall of £40m. Members will meet in March to decide how to deal with that gap.
Unusually, all the seats on one side of the chambers stayed empty on Thursday as the city's Labour group took the decision not to attend. Instead, joined by Scottish Labour leader Anas Sarwar, they met with trade unions and other protesters outside.
While strains of Labour favourite 'Things Can Only Get Better' drifted in, SNP councillors took it in turn to condemn their opposition's non-attendance.
Cllr Bell said failing to set a budget was "never an option for the SNP". "We don't have the luxury of throwing our hands up and walking away," he added. "This is not a school debating society."
Not setting a budget would mean "external auditors would be appointed to do the job, stripping back services to those required by law to balance the books", Cllr Bell said.
The SNP budget will see £2m raised from brown bin permits and £3m from increased parking and bus lane fines.
Fees for nursery time above the statutory 1140 hours will be increased and staffing in the education department will also be reviewed to save £1.4m, but teachers and support for learning workers are to be excluded.
Staffing levels will be cut in educational psychological services, through "turnover" and early retirement, to save £105,000.
Opening hours will be reduced at Tramway, to save £73,000, and dropped from 60 hours to 54 hours per week at the Mitchell Library [£115,000].
Just over £1m will be retained through a reduction in swimming pool opening hours. Budget papers explain the "current operation of five swimming pools on fixed single shifts" will be retained, while there will be an increase to two shifts at Whitehill pool.
Health suites that operated within Glasgow Club venues pre-pandemic will not reopen as part of that saving. Hire charges are to be introduced at outdoor tennis venues during "peak times".
Over £500,000 will be saved due to the closure of the People's Palace and Winter Gardens while work is carried out in the building.
Museum budgets are being cut, including a reduction in temporary exhibitions and engagement activity, while "efficiencies" of just under £230,000 will be found across community libraries.
Lifting parking charges "in line with Edinburgh levels" for both inner and outer city areas will bring in a combined total of just under £2.5m, while a new fee to enter the Glasshouses at the Botanic Gardens is set to raise £185,000.
A tariff for the council's public electric vehicle charging network will be introduced to make £450,000 and parking fees will be increased at Pollok Park [£100,000].
Cleansing services, including kerbside collections, public recycling sites and the staffing structure, will be reviewed to save £978,000. It will not impact the frequency of green bin collections, budget papers stated.
Glasgow's two-man Conservative group and most of the Greens, who in recent years have struck a budget deal with the SNP, were present, but left immediately after making their speeches. Bailie Christy Mearns, the depute Lord Provost and a Green councillor, remained.
It meant the SNP's budget passed without a vote, as no amendments were presented.
Greens co-leader Jon Molyneux said the budget process had been a "bruising experience" and praised Cllr Bell for "being the only one to get a budget over the line".
The Greens, he said, had tried "really hard" to produce plans they could "stand behind collectively", but the gap was "just too wide".
His party couldn't support the SNP's plans as they didn't address "critical pressures in the social work department" or "contain moves towards the longer-term changes we need", Cllr Molyneux added.
Greens, who want to see a new deal for local government, are pushing for a workplace parking levy, a tourism tax, road user charging schemes and other "creative, ambitious income-generating opportunities".
Thomas Kerr, the Conservative group leader, said "savage cuts" to services were due to an "out of touch" SNP Government. The council tax rise isn't "fair on our working-class communities", he added.
"It is pay more, get less at the very best and our city deserves better."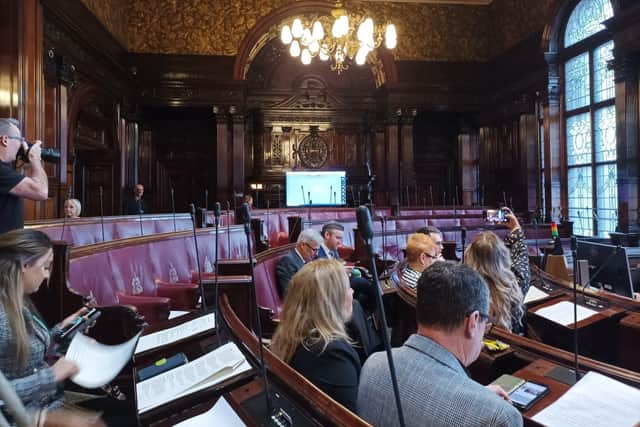 Cllr Bell said the budget had been shaped by Brexit which is "biting hard", the legacy of covid, war in Europe and soaring inflation. All those difficulties were "compounded by the chaos and calamity of the UK Government's mini budget", he added.
"It is my view that increasing charges — including in parking charges and asking all our citizens to pay a 5% rise in their council tax — is preferable to slashing vital services many Glaswegians rely on."
Council leader Susan Aitken added she had sympathy for the Scottish Government's "incredibly difficult financial circumstances" of the Scottish Government, but couldn't "agree with some recent decisions they've made".
"We've fought hard for Glasgow but sought to do so constructively – and we have made progress," she said. "Glasgow Labour has shown every Glaswegian that our services and communities are just pawns in their childish political games."