Unions met outside Glasgow's health and social care headquarters to "take a stand" against cuts of over £20m which will see almost 200 jobs lost.
Members and representatives from UNISON, Unite and GMB protested on Albion Street on Wednesday, calling for more money to fund services.
They gathered before the Glasgow City Integration Joint Board [IJB] — which runs health and social care services — met to pass a budget plan to plug a £40m funding shortfall.
Despite the protest, proposals, which include slashing a budget for care home beds for older people and cutting 50 jobs in community health teams, as well as taking £17m from reserves, were agreed.
During the meeting, Chris Sermanni, UNISON, said people in Glasgow were "sick" of politicians passing cuts "with a heavy heart". "I think it's about time to take a stand and do everything you can," he urged members.
Earlier, he had addressed protesters outside the HSCP headquarters, although the meeting was held online.
Mr Sermanni said IJB members were working from home, a "luxury" that "thousands of their staff aren't able to benefit from".
"Workers that worked tirelessly through the pandemic and beyond", he added.
Outlining the scale of the cuts, the UNISON rep said: "These are services that were already struggling to deliver, often at the cost of our members' physical and mental wellbeing."
Reserves by "their very nature are non-recurring", Mr Sermanni said. "The forecast for next year [a £45m gap] is even worse than this year and they won't have the buffer of reserves.
"That's why it's time to take a stand today, not tomorrow, not next time."
Shona Thomson, from the GMB, said the scale of the cuts over the next few years would "accelerate the privatisation of home care services in Scotland's biggest city".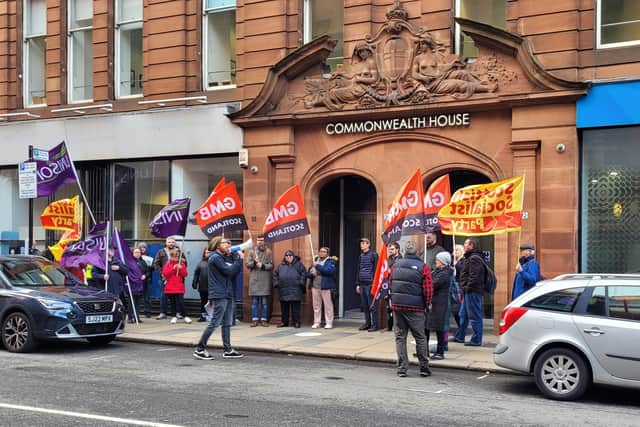 While another UNISON speaker said the estimated £1.2bn required to roll out a National Care Service could instead be used to "make inroads" into Glasgow's recovery, after around £500m was cut from council budgets over a decade.
Speaking at the IJB meeting, Cllr Chris Cunningham, SNP, said: "However angry we are about the situation we are in, the risk to those who rely on those services is far greater if we do not set a budget than if we do.
"If we do not set a budget all services cease until the IJB budget is back into balance. That is a far greater risk than the money we are being asked to save today.
"I appeal to members, be angry, be absolutely angry, but let's not throw the baby out with the bathwater. I am more than happy to send up a distress flare but distress flares do not cause any damage. Not passing this budget would cause a great deal of damage."
Cllr Allan Casey, SNP, added that members would be "doing all they can to get that extra funding, like we've been trying for the last months and years". "We will do everything we can to get that extra funding."