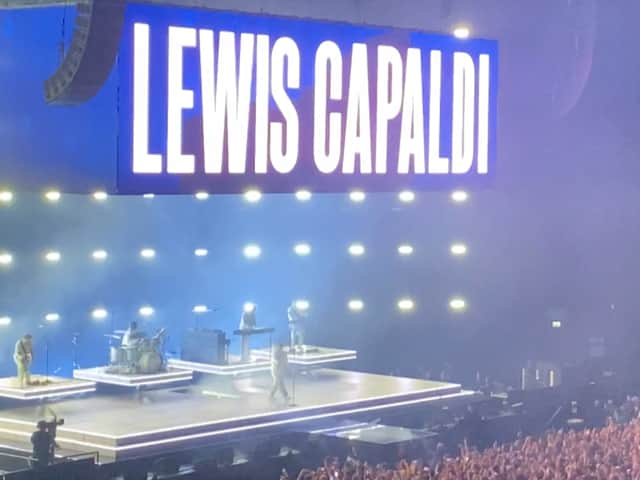 Verdict: ***** (5) stars.
Lewis Capaldi fans were treated to a concert to remember at the OVO Hydro in Glasgow last night as part of the singer's 'Broken By Desire To Be Heavenly Sent' UK tour.
The sell-out crowd were given a sneak peak into some of the tunes contained in his new album which is due to be released in May, 19, 2023, while performing all of his top hits during an incredible one-off 90 minute show.
Following on from support act RAYE who warmed up the crowd by signing her new single 'Escapism' which recently topped the charts, Capaldi took to the stage and beamed "it's good to be home" after kicking off the tour in Leeds, Manchester and Aberdeen over the past 10 days.
Opening with up-tempo crowd favourite 'Forget Me' and 'Forever', the star impressed from the get-go but it was his all important question "Glasgow, you beautiful f***ing c***s, how we doing?" that had fans in stitches.
"Many a time, I'll be out, I'll be walking the streets of Glasgow and someone will come up and go 'can I get a picture', and they'll go, 'wit you doing in Glasgow, man', and I'll go, 'I live here you f*****g idiot, wit else".
Gazing out he thanked fans for their continued support and for selling out the Finnieston venue within a matter of minutes after tickets were officially released, joking "you guys are keeping me fed," after proceeding to burp out loud.
Capaldi also made a light-hearted joke about his music causing fans in the audience to start fighting after recent incidents of crowd trouble. He added: "Please don't do that because then I'll be thinking about it for the rest of the evening and wondering who won!"
A stunning rendition of 'Lost on You' reminded fans of his incredible range and proved to be an early highlight, before following that with two songs from his latest album; 'Heavenly Kind of State of Mind' and 'Leave Me Slowly'.
Settling into the set with ease in front of his adoring home crowd, Capaldi was evidently enjoying the set. 'Before You Go' left onlookers with a tear in their eye as the impressive piano ballad had the audience on their feet before Bruises showed off the prowess in his voice.
After finishing the song at a piano, Capaldi revealed to the audience that he wasn't actually playing the instrument. His pianist Aiden played the Celtic song "It's a Grand Old Team to Play For," before Capaldi interrupted and exclaimed "I did not approve of that song."
A mixture of loud cheers and hushed boos could be heard before Lewis said "Right. Relax here, everybody. Aiden's getting the f*****g sack tomorrow, nearly started a riot there! I told you, two cities, do not mention it in Glasgow. That's thrown a spanner in the works."
'Wish You The Best' then made its live debut which was well received, before his performance of the iconic song Grace had thousands shining their phone lights in the singer's direction.
'Pointless', which has recently elevated Capaldi to his fourth Number 1 on the Official Singles chart, had the Hydro singing in unison before playing another classic 'Hold Me While You Wait' which he said was "one of my favourite songs from the first album."
Towards the end of his set, the chart-topper bravely opened up on the subject of mental health, sharing his struggles with anxiety as he thanked each and every one for their support over the last five years. Lewis said "I've made it no secret about the fact that I get anxiety, it gets on top of me a wee bit and sometimes I feel low, and this next song is a new song about one of the times when I've been low."
That led him to share 'How I'm Feeling Now' - a guitar solo - which features the lyrics "So here's to my beautiful life, that seems to leave me so unsatisfied. No sense of self, but self-obsessed, I'm always trapped inside my f***ing head. The crowd were in awe and responded by letting out the loudest cheer of the night.
Despite teasing throughout the night that he wouldn't play the original version of 'Someone You Loved', Capaldi gave his fans exactly what they had been waiting for. The encore finished off the show on an emotional high note and ensured fans headed home with fresh memories that will last a lifetime.
Overall, Capaldi was a joy to watch on stage. The Scottish songwriter is a born entertainer who thrives in a live setting. He immediately captivates his audience and this set, in particular at the city's biggest music venue was incredibly well structured and filled with oustanding vocals.
His remaining tour dates are:
Thursday, January 26 - Birmingham - Utilita Arena Birmingham
Friday, January 27 - Nottingham - Motorpoint Arena Nottingham
Sunday, January 29 - Belfast - The SSE Arena, Belfast
Wednesday, February 1 - Cardiff - Cardiff International Arena
Thursday, February 2 - Exeter - Westpoint Arena