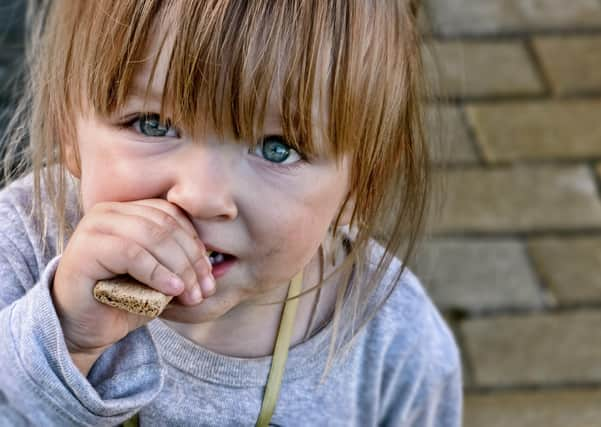 But generous members of the public and the Scottish Government have joined forces to make sure Aberlour Child Care Trust will be able to help many more.
The charity launched an urgent appeal on March 18 for donations to its urgent assistance fund.
And members of the public have answered resoundingly, donating £172,693.30 so far.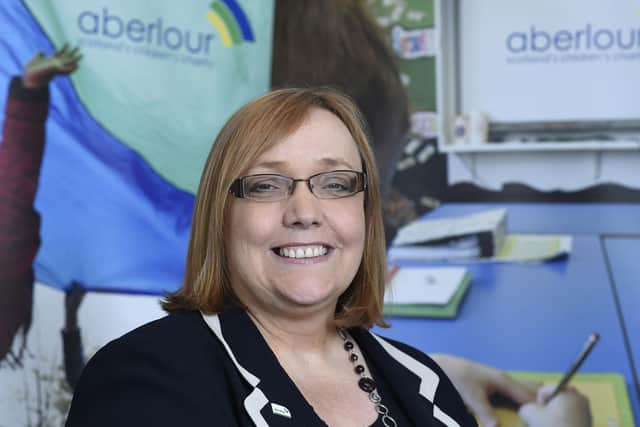 Recognising the crucial role the fund will play in the coming weeks, the Scottish Government has also stumped up an additional £100,000 to help Aberlour support families in need.
It's a huge boost but SallyAnn Kelly, the charity's chief executive, is hoping those who can afford to will continue to donate – to meet a huge surge in demand.
There has been a 1100 per cent increase in applications to the fund since the lockdown began in March.
In the last four weeks alone, £90,780.63 has been granted to families who are facing extreme hardship across the country.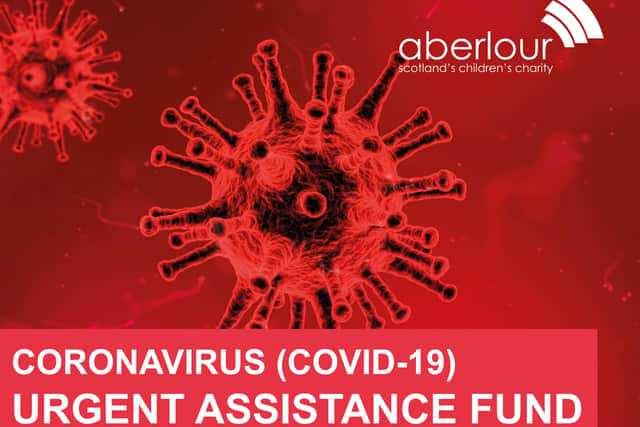 SallyAnn said: "Demand for our urgent assistance fund before the coronavirus struck was already at an unprecedented level.
"More than £57,000 had been given out so far this financial year.
"However, in a two week period – from March 16 to April 3 – we awarded a further £47,000, taking our annual total spend to over £100,000 and that demand is only set to continue.
"Covid-19 is causing severe disruption to normal everyday life: jobs are already being cut and other businesses will take some time to recover.
"The result is that the people worst affected are those on low incomes.
"People unable to work because they've contracted the virus will also only receive statutory sick pay.
"This is usually less than their normal wages and seldom sufficient to pay for all the expenses a typical family may face."
Quickly realising that many more people would need support, Aberlour launched an appeal for the public to help.
And it proved a massive success story – to date more than £172,000 has been raised from donations.
A further £100,000 has also been awarded by the Scottish Government.
However, SallyAnn is keen to stress that demand is much higher too – meaning the charity is still appealing for people to support the fund, if they can.
She said: "We know that so many people are desperate to help those less fortunate but just don't know how to.
"That's why we're asking the public to continue to donate some of the money they will save as a result of working from home, such as the cost of a takeaway coffee or their bus fare to work.
"If we all come together as a nation and help in a small, affordable way, it will make a huge difference to the most vulnerable in our society as we help them through these challenging times.
"Please take this opportunity by donating to the Aberlour Urgent Assistance Fund so that children, young people and families don't suffer as a result of coronavirus."
The appeal is also a way to ensure families who've never before needed help know that it is available.
Aberlour's Urgent Assistance Fund makes cash payments to families that are struggling, helping them pay for a range of needs.
SallyAnn said: "There are many people who've worked all their days but have now lost their jobs as a result of the coronavirus.
"They may not know the fund exists so we're using our social media channels and our friends in the press to get the word out there.
"We've been giving out grants for five years, usually around £55,000 per year.
"From April 1, 2019, to March 15, 2020, we received 434 applications.
"In a two week period to April 3, we had an additional 227 applications so word does seems to be getting to those who need our help.
"The average grant we're making is also going up, from £153 per child to £197.
"We try not to put too many constraints on how that money is used; it's there to help people clothe their children, put electricity and gas in the meter and food on the table.
"We also support young people who're leaving care or used to be in care to set up on their own for the first time."
Even before the lockdown began, Aberlour feared that many families were already at breaking point.
As finances are further impacted by coronavirus, many more will struggle.
Sadly, there has also been demand from those fleeing domestic abuse.
SallyAnn said: "We've received applications from all over Scotland from struggling families telling us that they can't afford to stock up on essentials.
"And when they do go to the shops there is nothing left for them because of other people panic buying.
"We're also experiencing an increase in domestic abuse-related requests for support where mothers and children have been forced to flee their homes, leaving all belongings behind.
"Other vulnerable families who are now at home for extended periods of time can't afford the extra gas and electricity."
With Aberlour donating £100,000 to the fund, it now sits at well over £400,000.
However, with demand increasing by 1100 per cent, the charity will need every penny of that – and more besides – to help families.
SallyAnn said: "It does sound like a lot of money and we're delighted by the response to our appeal.
"We can't thank everyone enough who has already dug deep to support us.
"But in the space of two weeks, we gave out grants of £47,000 which gives you an idea of how quickly the fund is going to be used up.
"The need is only going to get greater in the weeks to come. That's why we're asking people who can afford it to donate what they can.
"We don't take a fee – every penny goes directly into people's pockets."
Aberlour employs 600 staff members who are ably supported by 300 volunteers.
Together, they've worked to keep the many services the charity provides operational.
"I'm so proud of how our staff and volunteers have responded to this crisis," said SallyAnn. "They have really risen to the challenge."
Looking to the future, the charity hopes the pandemic will open people's eyes.
SallyAnn added: "Our economy is taking a huge hit which will continue long after the virus is controlled.
"It has served as an awakening for people who didn't understand hardship before who now realise there but for the grace...
"Hopefully, in future that will lead to more compassion in our society, with people sharing the burden rather than pointing the finger."
Helping Scotland's hidden children
Aberlour's Urgent Assistance Fund can provide cash grants to help families with children who are suffering extreme hardship, including the impact of the coronavirus.
Applications must be endorsed and submitted by a sponsor, acting in their professional capacity. Examples of eligible sponsors include social workers, health care professionals, teachers, clergy and third sector organisations. Applications from individuals cannot be accepted.
The fund awards cash grants to assist children and young people aged 21 and under across Scotland, and their families, who are suffering extreme hardship.
To apply for a grant, visit www.aberlour.org.uk where you can download an application form, then email the completed form to [email protected] Any queries should also be sent to this email address.
Aberlour is the largest solely Scottish children's charity, helping to improve the lives of Scotland's vulnerable children and young people.
Not all children are born with an equal chance. Aberlour is there for Scotland's hidden children, when others let them down, because it believes every child deserves a chance to flourish.
The charity provides a wide range of services including:
Residential care and fostering; Early years support: building confidence in parents;
Disability: helping families when their child has a disability;
Recovery: helping parents on the road to recovery from drug and alcohol misuse.
The charity is continuing to provide support to families, despite the lockdown.