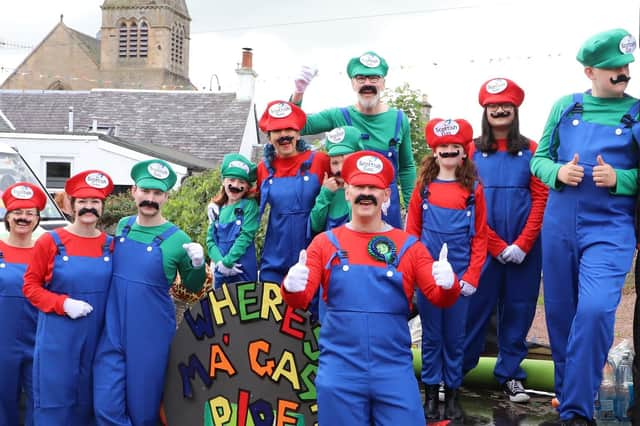 Where's Ma Gas Pipe won the best decorated float and it's easy to see why with this wonderful cast of characters winning the judges approval - not to mention the crowds!
Biggar Gala Day brought a wonderful array of colourful characters to the town's streets, making for a fabulous day. All pictures, Nigel Pacey – with thanks.
Ready for the off, the band prepares to lead the way around Biggar.
The Blackmount Bullets from Blackmount Primary School were a huge hit with the judges and ended up winning the overall decorated float prize.
With a large farming community, this float was well themed.
Willy Wonka sent his oompah loompahs to keep the crowds in check and they looked like they were having a ball, getting out of the factory for a while.
This group of revellers enjoyed not only the gala but a day at the races!
Youngsters of all ages had a blast, shooting each other with their water pistols as they made their way round the procession route.
A large crowd turned out to enjoy the first in-person gala day since 2019, with 2020 and 2021 events having to be held virtually due to the pandemic.
Queen-elect Kelsie Brotherstone and her two pages had a great view.
With a party on the go, the Prime Minister popped in for a visit but he was being chased by the long arm of the law!
Her Majesty the Queen was well represented in the procession, even her corgi dogs were allowed to take part!
Even Abba reformed for Biggar Gala Day and made a personal appearance, not in hologram, to thrill spectators along the procession route. Super troupers!
The Aldi's float members meant business and were taking no prisoners when it came to soaking those who stood in their way - blasting everyone!