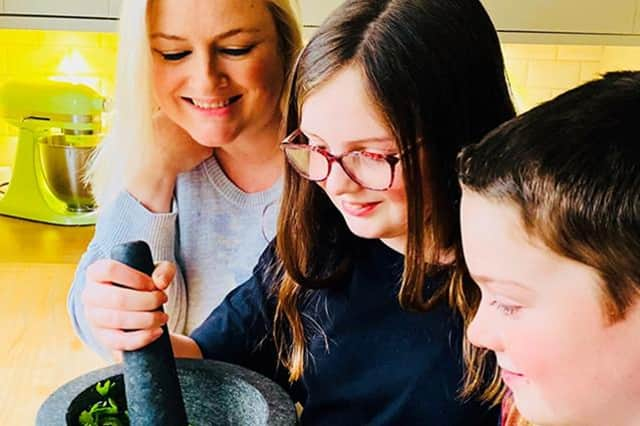 Laura's children Niamh and Rory, along with husband Paul, were sworn to secrecy!
Sadly, Laura Michael was pipped at the post when Tom Rhodes was unveiled as the eventual winner.
But she was over the moon even to make it to the televised rounds.
It certainly kept the South Lanarkshire Council music instructor busy during lockdown. Indeed, it was Covid-19 that convinced her to enter.
Laura (46) said: "What gave me the push this year was the pandemic.
"I'd seen people of my age go into hospital with this awful illness and not come out and I just thought: I am going to take this opportunity and run with it.
"The audition process was lengthy and done remotely. I set out with no expectations other than to do myself proud.
"When I made it to the televised heats I was over the moon; the hype around it all was what propelled me on.
"If I'd really had the chance to sit down and think about it in advance, I probably wouldn't have done it!"
Filming was completed last year and Laura and her family were sworn to secrecy.
When the series began to air in February and friends, colleagues and the community in her hometown began following her adventure, excitement was whipped up all over again for Laura, husband Paul and their children Niamh (11) and Rory (9).
"The family were so happy for me, and the support from the communities of Law, Braidwood and Carluke has absolutely blown me away," she said.
"During these last couple of weeks, in particular, the support has been overwhelming. I was getting around 1000 messages a night though social media! It has been amazing."
Local fame is only the beginning for Laura, though, who has new opportunities in the pipeline thanks to her Masterchef success.
She added: "I can't go into too much detail at the moment but, when the time is right, I can't wait to share what's coming next with everyone who has supported me.
"I still can't quite believe the response to the show from the professional cooking community who have been incredibly kind and supportive.
"I have Michelin star tweeting about me and offering their experience and knowledge to help me on a new and exciting path.
"Ben Tish, who I worked for in the professional kitchen round, has been amazing, as has John Torode. He is one of the calmest and most patient people you could meet.
"Meeting and working with him was one of the highlights of the entire experience.
"Gregg is also a great lover of Scotland and was such a big support. They are a genuine double act and so much fun."
A peripatetic music instructor, Laura has taught South Lanarkshire pupils as part of the Instrumental Music Service (IMS) for more than 20 years.
An acclaimed jazz saxophonist since the age of 16, she won a scholarship to Berklee college of music in Boston after a year of study at the Royal Conservatoire in Glasgow.
She has released four CDs under her performance name Laura MacDonald and also served as director of the National Youth Jazz orchestra.
For more of her recipes, visit Laura's new Instagram page 'LauraMichaelcooks'.