The cash was announced in the latest round of funding from the Regeneration Capital Grant Fund (RCGF), delivered in partnership with CoSLA and local authorities.
Carnwath Community and Business Enterprise Hub is one of 23 community-based initiatives which shared almost £27 million in funding.
It brings the total amount secured by community council members to £969,868 – with £260,000 and then a further £75,000 also secured from the government's Place Based Investment Fund, £139,868 from Black Law Wind Farm, £90,000 from Muirhall Wind Farm, £30,000 from Muirhall Windfarm Two and £100,000 from the Levenseat Trust.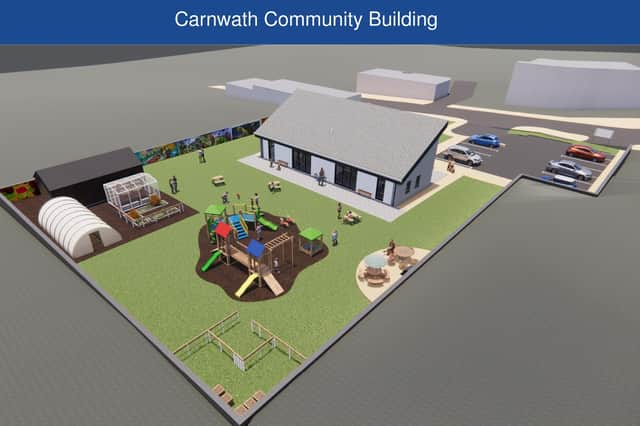 With all the funding in place, the hard work to transform a former garage site in the village can finally start – it is hoped to have a local contractor employed by April.
For community council members, it's a dream come true and one which they hope will be completed later this year.
Secretary Angus Knox said: "The owner of the garage site had permission to build homes on the land but, as it's in a conservation area, it wasn't going to be profitable.
"We approached him in the hope of buying the land to help transform the village's fortunes – it was deemed by locals as a bit of an eyesore and while a lot of traffic passes through here, there's not much to entice people to stop.
"While we were talking to the owner of the land, we found out about the Place Based Investment Fund and, with help from South Lanarkshire Council's economic development team, our bid was successful.
"That helped us to buy the site and cover legal fees. All of the funds we've since accrued will help us to transform the site."
That transformation will see the creation of the community hub, which will have spaces to lease for emerging small businesses, as well as providing meeting places for locals, an after-school kids club and social prescribing room to deliver health classes and the like.
The local Men's Shed will also be based on the site and children from Carnwath Primary School have volunteered to help create a community garden with a polytunnel. A farmer's market will be held monthly in the village to sell produce and entice people to stop.
Produce from both the Men's Shed and garden will also be sold in the community council's charity shop, the village's former hairdressing salon which was sold to members for a knock-down price of £10,000 – as long as it remains in community use. It is hoped the shop will be open in February.
Angus added: "We're indebted to the former owners for giving us such an incredible discount.
"We've now got the keys and are hoping to open up in February – we've already got a lot of donations from the public to kick-start it and plenty of volunteers who are happy to give their time.
"We're hoping in future to set up a community fridge in the premises too – acting as a village foodbank."
With so much in the pipeline, watch this space to see how it all takes shape!