Managed by Paths for All, it supports active and sustainable travel initiatives in communities across Scotland.
The Trust has received £11,200 to improve Deadman's Lane, a partnership supported by the local community, Lanark Grammar School and South Lanarkshire Council.
Funds will be used to improve the footpath that connects Lanark Grammar with Hyndford Road, known locally as Deadman's Lane. It is one of the main entrances to the school and is also used by residents – connecting Hyndford Road with Kirklands Road to the rear of the school.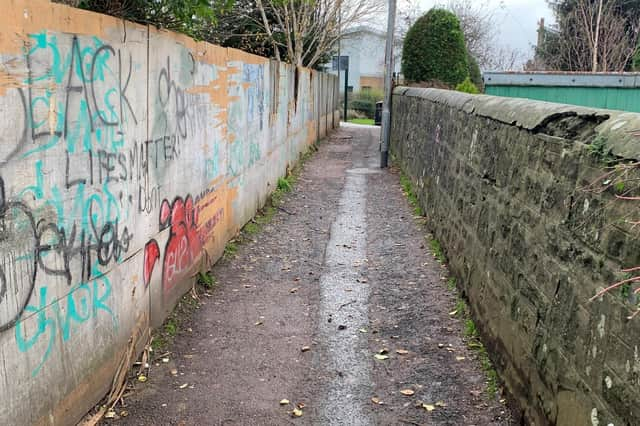 It is also a key pedestrian access route to New Lanark World Heritage Site and the Clyde Walkway beyond.
The Trust plans to widen the entrance to the path at the Hyndford Road end, as well as improving the tarmac surface and improve its aesthetics by installing new fencing, signage and soft landscaping.
Working with the Grammar's art department, the fence will decorated with pupils works essentially creating a mural along one side of the path. It is hoped this will brighten the area up, as well as deterring vandalism.
The Trust has been instrumental in the redevelopment of the adjacent entrance to St Kentigern's Church, a scheduled ancient monument, and sees work on the path as the next step to improving the wider area.
Chairwoman Sylvia Russell said: "I'm thrilled that the Trust has been awarded this grant from the Ian Findlay Path Fund. This money will enable the Trust to redevelop and improve Deadman's Lane.
"For some time the Trust has been working to improve the St. Kentigern's area and this funding will enable that work to continue. I'd also like to thank Rotary Club of Lanark members, who have kindly donated £1000 towards the project."
Supported by Transport Scotland, the Ian Findlay Path Fund was launched last August.
Funding is allocated to projects which demonstrate planned improvements to usability and accessibility of paths.
Lanark Community Development Trust is among the first successful applicants and it is hoped the initial projects will encourage more community groups to apply.
The Ian Findlay Path Fund team are endeavouring to visit as many prospective applicants as possible to discuss and support for their projects.
Yvonne McLeod, senior development officer, said: "We're thrilled to announce our support for the first projects; we've enjoyed a wide range of exciting applications which demonstrate the innovation and dedication of community groups to encourage active travel and a connection to nature in communities.
"Our team is learning with each new expression of interest; every single group that gets in touch has its own unique circumstances."
There is still time to apply to the fund before the deadline on March 31. From the point of award, projects have 12 months to complete.