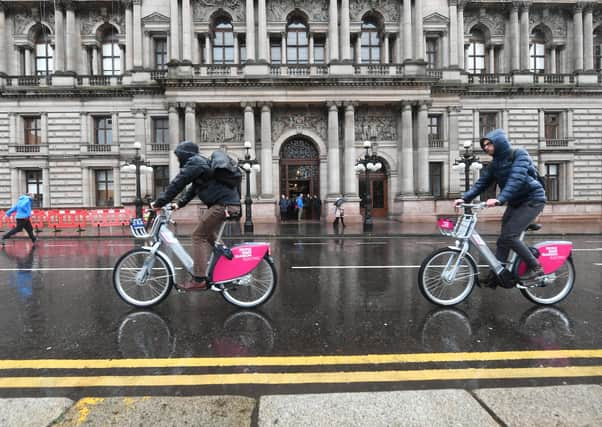 The energy supplier, which sponsors the nextbike-operated fleet of e-bikes in Glasgow, wants to encourage people out of their cars and onto e-bikes to mark World Car Free Day 2020.
The annual event, today (September 22), aims to encourage people to consider ditching their cars and switching to a more sustainable alternative such as cycling.
This year, ScottishPower, in conjunction with nextbike, is offering free hour-long rides to nextbike customers on the day.
The 63 e-bikes have proved a hit with Glasweigians since their launch in October last year. In total, the fleet has amassing 22,600 rentals, with people cycling more than 100,000 km.
E-bikes are a combination of a conventional bike with a motor that take some of the effort out of pedalling for the rider. With top speeds of 25km per hour, the e-bikes can cover greater distances faster and with less effort.
Samuel Coldham, nextbike UK business development manager, said: "We're delighted that ScottishPower has offered to give free rides to the city to mark World Car Free Day.
"E-bikes are not only great for reducing journey times and taking on steep hills – of which Glasgow has plenty – but they're also a great way of increasing inclusivity and getting people of all abilities and fitness levels into cycling.
"Car use dropped significantly during this summer's lockdown, but levels have started to creep back up again as people start to move around more. We hope that people will stop and think before making their journeys on Tuesday, and opt for a greener – and free – alternative."
Dr Sam Gardner, ScottishPower's Head of Climate Change and Sustainability added: "We're proud to give Glaswegians the chance to do their bit for the environment by ditching the car on World Car Free Day and giving e-bikes a go completely free of charge. This is a great way for people to see how e-bikes could work for them as a cleaner and greener mode of transport and gives them the chance to consider making the switch in the longer-term.
"These are the kind of changes we all have to think about now if we're to have any hope of achieving Glasgow's net zero targets in the next ten years. I have no doubt the people of Glasgow will take up the challenge, get on their e-bike and use World Car Free Day 2020 as the start of their efforts to achieve a better future, quicker."
Glasgow City Council's Cllr Anna Richardson, City Convener for Sustainability and Carbon Reduction, also welcomed the news.
She said: "There has been a fantastic response to e-bikes being included the Glasgow's fleet of hire bikes. The level of support that's coming through for active and sustainable transport in the city is great to see."
To take advantage of the free offer, people will need to enter the code Carfree1hr in their nextbike rental app. Each customer can redeem the voucher once.
Electric bike rental is not currently covered by regular nextbike memberships.
Customers can rent e-bikes using their existing nextbike accounts. Rides are normally charged on a pay-as-you-ride basis at £2 per 20 minutes or £30 per day.