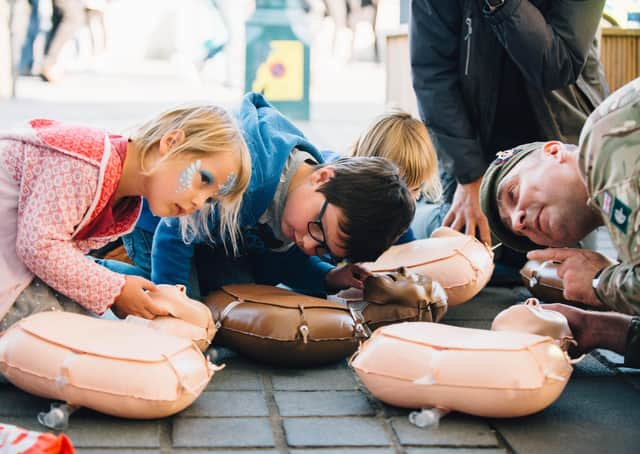 Funded by the Scottish Government, Police Scotland, St John Scotland, Scottish Ambulance Service and Scottish Fire and Rescue Service, it would be fair to say it has been a huge success.
The campaign's main mission was to recuit 500,000 Scots as lifesavers in a five-year period.
As of today, 520,989 people have answered the call to learn CPR.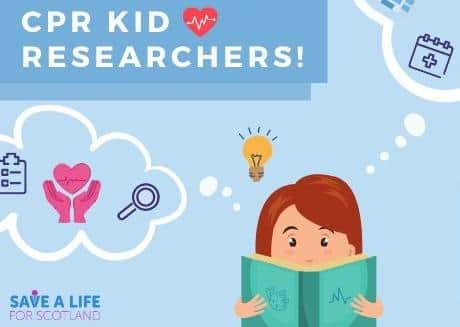 And their efforts are making a difference, as Save A Life For Scotland director Lisa MacInnes explained.
"In 2015, the Scottish Government published its out of hospital cardiac arrest strategy," she said.
"Survival in Scotland was not great when compared to other countries.
"We wrote a strategy based on initiatives other countries had tried that had made a difference in terms of treating people who had a cardiac arrest out of hospital.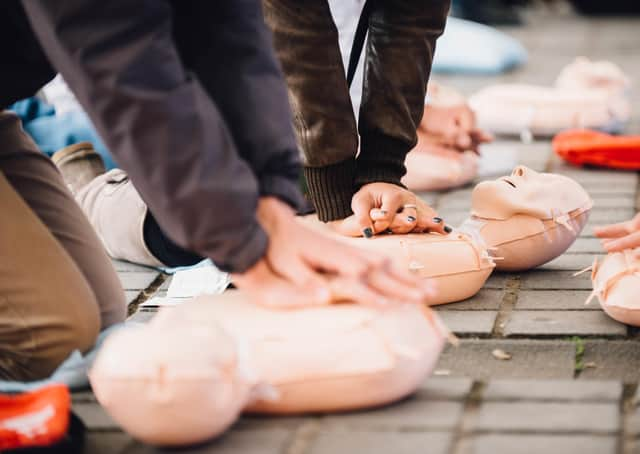 "The most important part of that strategy was giving people the confidence to recognise the problem and react to it, by doing CPR.
"That's what would make the biggest difference and help people survive.
"Our aim was to recruit 500,000 people across Scotland in five years – and we've managed to surpass that figure. That's ten per cent of the population.
"Five years ago, only 45 per cent of people in Scotland would consider doing CPR when asked to by the ambulance service.
"Last October, that had risen to 64 per cent.
"We've also doubled the survival rate for out of hospital cardiac arrest – from one in 20 surviving five years ago to one in ten today.
"It's a fantastic result and we're now seen as a global leader in cardiac arrest intervention."
Lisa believes the partnership approach taken is the main reason for this incredible success story.
The Resuscitation Research Group at the University of Edinburgh has led the project.
However, many partners have had a hand in its success including the Scottish Ambulance Service, Police Scotland and the Scottish Fire and Rescue Service – all of whom have hosted free CPR training sessions across the country.
The Scottish Government has also supported the project financially.
And it has been driven by a host of charities, including St John Scotland, the British Heart Foundation, British Red Cross, Chest Heart and Stroke Scotland, Defence Medical Services, the Royal Life Saving Society UK, St Andrews First Aid, Lucky2BHere in the Western Isles and East Neuk First Responders in Fife.
By working together, these partners have been able to recruit more than half a million lifesavers across the country in the last five years.
And, more importantly, they have helped save countless lives – with the help of the Scottish public.
Lisa said: "Five years ago, stories of someone surviving a cardiac arrest out of hospital were like gold dust.
"They are still very special but more and more stories are coming to the fore.
"That helps us all put names and faces to the one in ten who are now surviving.
"That's what this is all about and it brings it home that we are making a difference to families the length and breadth of the country whose loved ones are still here – thanks to Save A Life For Scotland.
"I feel very strongly that our success is because of the partnership approach we have taken.
"It's not one organisation working on this but many who have the same goal – that's the strength of it.
"The fact we were able to offer free CPR training also helped to remove any barriers people faced."
Of course, the initiative would not have worked had the Scottish public not signed up for it.
Working with charities, Education Scotland and Young Scot, Save A Life For Scotland quickly started to recruit lifesavers.
High profile events like the Commonwealth Games, European Championships and Royal Highland Show also proved a rich recruiting ground, as did schools.
Lisa said: "With the government as a partner, it was really good at opening doors for us and we were able to link up with schools and sports organisations across the country.
"Carol Smillie also filmed a video for us – a how to do CPR guide which attracted a lot of lifesavers.
"Each of the partners also increased their CPR training sessions in venues all over Scotland which were free for people to join.
"And the British Heart Foundation approached each local authority, asking for every child in secondary school to receive CPR training before they leave.
"They succeeded in doing that last year.
"This co-ordinated approach by our partners has helped us surpass our target of 500,000 lifesavers in five years.
"Now. we're hoping we can reach 600,000 by the end of this year."
While Covid-19 has had an impact on the campaign, things are starting to return to normal and CPR sessions are now resuming – albeit with appropriate social distancing measures in place to keep recruits and their trainers safe.
Save A Life For Scotland is also launching an initiative this week to encourage more young people to sign up.
Lisa said: "We're calling on kids to teach their family and friends how to save a life.
"As a CPR kid researcher, they will be sharing their CPR knowledge to help make sure everyone knows how to save a life.
"Our online CPR kit contains all the tools they need to spread CPR awareness, including how-to videos, infographics and a researcher logbook to help keep track of their work.
"They will receive a superstar CPR Kid Researcher certificate to celebrate their work."
"Often young people know what to do, can keep a cooler head and tell adults what to do. We want to tap into that," she said.
As for the future, Save A Life For Scotland hopes to target socially deprived areas where the incidence of cardiac arrest is higher than other areas – to ensure every local authority area in Scotland has a team of local lifesavers on hand.
And it is these amazing volunteers who Lisa would also like to thank.
She added: "We could not have achieved what we have in the last five years had the people of Scotland not stepped up to support us.
"We can't thank them enough.
"We know their training is making a big difference and has saved countless lives."
Thanks to the campaign, one in ten people now survive cardiac arrest
Every year in Scotland, more than 3500 people are treated by the Scottish Ambulance Service after having a cardiac arrest.
Five years ago, only one in 20 of these people would have survived. Thanks to Save A Life For Scotland, today one in ten people will survive.
The campaign has already surpassed its 500,000 target of Scottish recruits who are willing and able to do CPR while waiting on an ambulance crew arriving on the scene.
It has also achieved its aim of doubling survival rates across the country within five years, meaning around 300 more lives are being saved every year.
However, the partners are not content to rest on their laurels and want to extend their reach to every local authority area in Scotland.
Lisa MacInnes, campaign director, said: "Increasing the incidence of bystander CPR is the cornerstone of improving outcomes for patients.
"Prompt bystander CPR can increase the likelihood of survival by two or three times.
"People of all ages have helped resuscitate family members as a result of our training.
"One school boy helped his mum and neighbour do CPR on his dad, who was only in his 40s, and he survived. There are so many similar success stories.
"However, we now need to target areas where we haven't had such a big impact.
"We know from data from the Scottish Ambulance Service where these areas are so we're hoping to offer more sessions in these areas to ensure every patch in Scotland is covered."