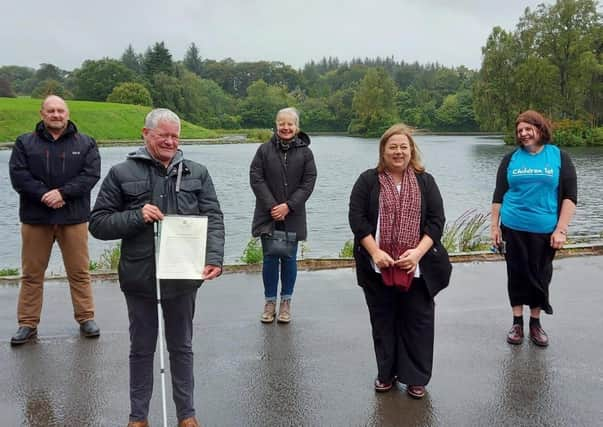 ERGC carries out a lot of partnership working and joint funding with other local and national organisations.
Russell MacMillan, who is registered blind, set up the charity after receiving an organ transplant that saved his life and motivated him to give something back in return for this second chance.
By the beginning of the pandemic, ERGC had already helped over 2,500 people in East Renfrewshire over its 13-year history.
The charity accepts donations of a wide range of goods, as well as cash, and passes these on to local groups or residents in need of support.
Considering the coronavirus restrictions currently in place in East Renfrewshire, Kirsten chose Rouken Glen Park to hand over a copy of the motion to Russell and his wife Yvonne.
Kirsten was joined in thanking East Renfrewshire Good Causes for the work they do for the local community by Councillor Tony Buchanan, Leader of East Renfrewshire Council and Maggie Farrell of Children 1st, whose clients have received support from ERGC,.
Kirsten Oswald said: "I have long been aware of the tremendous work done by Russell and Yvonne MacMillan, but until this milestone was reached, I wasn't aware of the full extent of their achievements.
"I was very pleased to be able to record this achievement in a motion to parliament just before we closed down for recess and now to have had the opportunity to meet Russell and Yvonne to present them with a copy of the motion and to hear of their recent activities.
"The range of support they have provided during the pandemic is hugely impressive, both to individuals and to organisations working right across our communities.
East Renfrewshire Council leader, Tony Buchanan, said: "East Renfrewshire Good Causes plays a vital part in the work we do in local communities. Council staff are often trying to put together support packages for people facing real challenges.
"Often, there is a gap to be filled in the support available, and it can be difficult to bring together all the resources needed to close that gap. East Renfrewshire Good causes has the flexibility to help out with small but vital contributions.
"Providing equipment to enable people to maintain contact while in lockdown, or for pupils to work at home will have made a vital contribution to the lives of people locally."
Maggie Farrell, Community Engagement Worker, Children 1st East Renfrewshire said: "We are delighted to work alongside East Renfrewshire Good Causes to make sure children and families can quickly get what they need in times of crisis or distress.
"East Renfrewshire Good Causes have helped us make sure that families can get the basic essentials that most of us take for granted – from children's beds to washing machines, the things a child needs to go to school, and toys to help children and parents play together, build stronger relationships and keep them safer."
Russell McMillan said: "This is a wonderful recognition of the many people, groups and churches who have made East Renfrewshire Good Causes the excellent success it has become.
"By working together in this way, we can show love to more East Renfrewshire neighbours and make East Renfrewshire an even better place to live. My thanks to all those who have helped along the way."