Many happy returns to the West Highland Way as it marks its 40th
It's hard to believe now but when the West Highland Way was first mooted back in 1974, it had its detractors.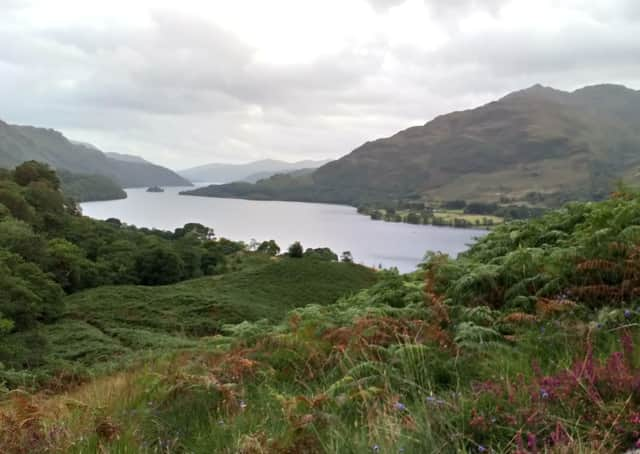 With views like this, it's little wonder people from all the world and closer to home return, time and again, to take in the West Highland Way. (Pic: Ross Pollock)
The iconic 96-mile route from Milngavie to Fort William celebrated its 40th anniversary this week.
In that time, it has grown to become a jewel in our tourism crown – bringing visitors from far flung shores to take on the challenge, as well as those closer to home.
It's estimated that 40,000 people complete the way in one go each year, many for charity, others simply to say they've done it.
Deer to all our hearts...wildlife and humans co-exist along the 96 mile route, which is celebrating its 40th this week. (Pic: Paul Saunders Photography)
And a further 120,000 dip in and out, completing sections on day trips and weekend stays.
It holds a special place in many hearts, some who've even popped the question while completing the route.
And all of these stories are being celebrated with the launch of an exhibition to toast the iconic walk's 40th year – featuring people's own stories.
Kenny Auld is among those who have risen to the challenge of completing the full route, perhaps not surprisingly as he is chairman of the WHW Management Group as well as recreation, access and health manager at Loch Lomond and the Trossachs National Park.
Clearly defined paths...help 40,000 walkers tick the West Highland Way off their bucket lists every year. (Pic: Paul Saunders Photography)
When the West Highland Way celebrated its 25th anniversary in 2005, Kenny was working as a ranger in the national park.
Now, as it celebrates yet another milestone, he leads the management team which ensures it is kept in tip-top condition for the many thousands of visitors who flock to it every year.
That's no mean feat as the way cuts through four local authority areas and a national park – starting in East Dunbartonshire, meandering through Stirlingshire, into Loch Lomond and the Trossachs National Park, on to Argyll and Bute and then finishing in the Highlands.
Each looks after its own section of the route with the management group casting a watchful eye over it all.
Keeping a close eye on the WHW is all in a day's work for the management group chairman Kenny Auld, who is also a manager in the national park.
Upkeep of the paths is one of the biggest challenges, with 90 miles of drainage ditches to safeguard against flooding to contend with too.
However, many hands make light work.
Kenny explained: "With 40,000 people completing the route every year, and 120,000 visiting hot-spots, there's a lot of maintenance!
"Usually, the paths take care of themselves with so many visitors but, with lockdown, the vegetation needed more work this year.
"Climate change is also an issue, with sudden rainfall causing flooding which is why keeping the 90 miles of drainage ditches maintained is so vital.
"It's not something people usually notice but it keeps water off the paths so it's a job we can't afford to ignore.
"In addition to land management and ranger teams in each area, we have hundreds of volunteers who also help us keep the route in good condition.
"They love the route and are happy to walk sections of it to feedback any issues that they come across. They also feedback some heart-warming stories they hear from people walking the route from all over the world, which we don't always hear when we're stuck in the office or at home."
These stories are now being used to celebrate the 40th anniversary, submitted by people from across Scotland and much further afield who love the WHW.
Kenny believes there is one simple reason for it winning so many hearts.
He said: "It's the perfect package – it offers something for everyone, from the most experienced mountaineers and walkers to people who just want to enjoy a day in the great outdoors.
"Thanks to the many villages and businesses along the route, people can choose how to enjoy it too – whether they want to camp out beneath the stars or stay in the luxury of a hotel.
"We have people doing the walk in five to eight days, taking a holiday from their lives to tick something off their bucket list.
"There's even a race every year when runners complete the 96 miles in under a day!
"Then there are others still who use it as a way of building up an appetite for the food and whisky at their regular pit-stops.
"More and more people these days are tackling the way for good causes and we've even had a few marriage proposals.
"People from all over the world return year after year and there are Scots who dip in and out of sections on day trips and weekends.
"But all of them have one thing in common – they love the WHW and the beautiful snapshot of Scotland it provides along its 96 miles."
In the last couple of years, visitor numbers have increased by 10 per cent.
Kenny believes this year, despite or even because of lockdown, those numbers will be even higher.
He added: "We're just waiting to see the figures for this Covid summer but we're expecting to see an increase.
"The importance of the route to people's health and well-being, particularly this year, cannot be over-estimated and is also a major factor in its success story.
"People enjoy getting back to nature and that has been very evident this year.
"You can't buy an electric bike or paddleboard in Scotland now as they are sold out but you can buy walking shoes – so there's no excuse!"
People share their stories to toast the 40th
The West Highland Way celebrated its 40th anniversary this week with the launch of an online exhibition.
Over the summer, members of the public have been contributing to its content by sending in stories, photos, videos and heart-felt moments from their time spent on Scotland's most popular long-distance route.
The virtual exhibition, part of a wider West Highland Way project funded by the Scottish Government's LEADER programme, will cover the 96 mile route, looking at milestone moments over the last 40 years.
Walkers, runners, cyclists, charity fundraisers and the route's fans from across the world have contributed their stories to the exhibition.
Jimmie Macgregor, now in his 90th year and who inspired many people to walk the West Highland Way through his radio and TV programmes, plus spin-off books during the 1980s and 1990s, provides the welcome to the exhibition.
There are also memories from those who walked the route in the early 1980s and adventurers who have tried to beat time and speed records right through to children as young as seven who have walked it this year.
Features include engagement stories, charity events in memory of loved ones and people who have enjoyed the route multiple times.
The West Highland Way has attracted painters, poets and musicians too and the exhibition attempts to capture a flavour from all those who have found it inspirational.
A touring exhibition will also be shown at locations along the Way from Milngavie to Fort William until spring 2021 to enable even more people to be inspired by the iconic route, completed by more than 40,000 walkers every year.