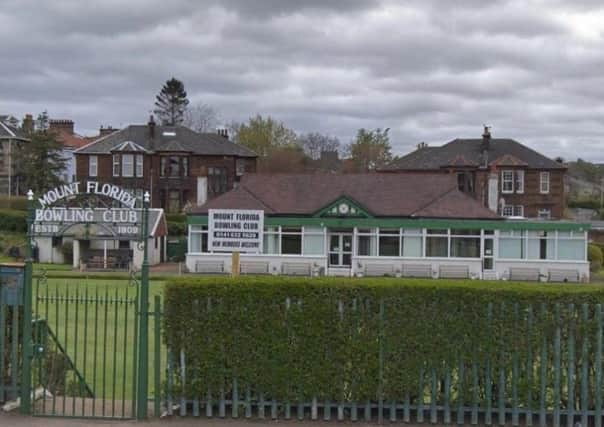 More than 600 people objected to an application from bowling club trustees and Noah Management and Developments to erect 40 flats on the land.
Council officers had recommended the scheme could be given the green light but the planning committee ruled against the developers.
Councillor Jane Morgan said the reduction in open space had not been "adequately addressed by retaining half of the site" and "by a financial contribution that cannot be used in the local area".
She added there was "no evidence of engagement with the community" and the design "does not integrate adequately with the environment".
Mount Florida Community Trust, which does not own the Carmunnock Road site, does have planning permission for the land.
Its vision is to keep the club as a sports facility and community garden, with a clubhouse, bowling green and tennis court.
Allan Munro, from the trust, said: "We are delighted with the decision. It shows the community does have a voice and that councillors are listening to those voices.
"This is yet another stage in the process of securing this green space for the benefit of the community."
He thanked local councillors, trust members and Mount Florida Community Council for their support, adding: "This is not the work of a few but the work of many.
"The people of Mount Florida and surrounding communities are truly amazing and with that knowledge we can continue to work to save this historic green space for all to enjoy."
Local councillors Anna Richardson, Archie Graham and Tanya Wisely opposed the plans at the hearing.
Mr Graham said: "The proposed development would have meant the loss of vital open, green space that this community sorely needs.
"This rejection means that the site will remain in local hands and be used to ensure that all local people have access to high quality green space."
Chris Carus, from the community council, also spoke out against the proposed development.
The developers believed their proposal offered a "valuable opportunity to deliver new community open space in Mount Florida".
They wanted to "develop the land into a series of private residential units and landscaped community gardens".