Please be patient and kind in local shops
Be kind, be patient and please wear a face covering when inside your local shop.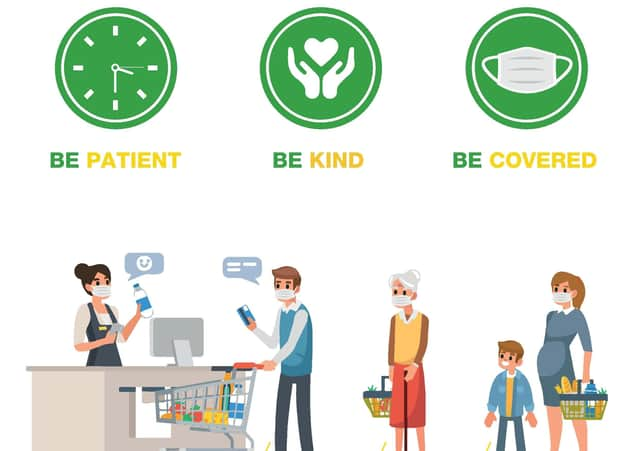 Simple and clear message is advocated in the posters, now available to local shops in light of tightened restrictions.
That's the call being issued to customers across Scotland to protect independent retailers and their staff as coronavirus restrictions tighten.
To remind shoppers of government requirements to wear a face covering and to maintain social distancing while inside shops, the Federation of Independent Retailers (NFRN) has created two new posters for its members to display within their stores.
The first poster appeals to shoppers to respect those working in shops by being "patient, kind and to wear a mask", while the second explains why both shop staff and customers should cover their faces while shopping.
Mask protection...by wearing one, you are not only protecting yourself but other customers and staff too.
The latest poster campaign is an extension of the NFRN's highly successful Shop Local, Shop Little poster initiative launched earlier this year to remind customers that local stores could provide all their needs and to encourage them to shop sensibly.
Stuart Reddish, NFRN national president, said: "Covid-19 has been challenging for everyone. Independent retailers have gone out of their way to support their communities by ensuring a safe environment.
"In the main, customers have adhered to the guidelines but some members have experienced hostility and frustration and, sadly, in some instances have even been subject to abuse and threats.
"We hope that by seeing these posters, customers will treat independent retailers and their staff with greater understanding and respect, which means protecting everyone's health and safety – customers and those working in the shops – by covering their faces and maintaining social distancing at all times."