I must admit until six years ago I had no idea of this connection, although I did know there was some connection between Portugal and Crossford as a friend of mine lives in a property called Lisbon Hut.
It was my friend Ian Wallace who told me the story about the Grahams of Crossford and the Port industry. Not only did he tell me the story but he bought me a glass of Port in the Clydesdale when it was owned by JD Wetherspoons. I was hooked; it is a pleasant drink!
The story begins with one of the more enterprising owners of Carfin House, James Noble Graham, who purchased the lands of Holmhead in 1880. He renamed it Carfin which is somewhat confusing to many people as there was another Carfin house near Wishaw.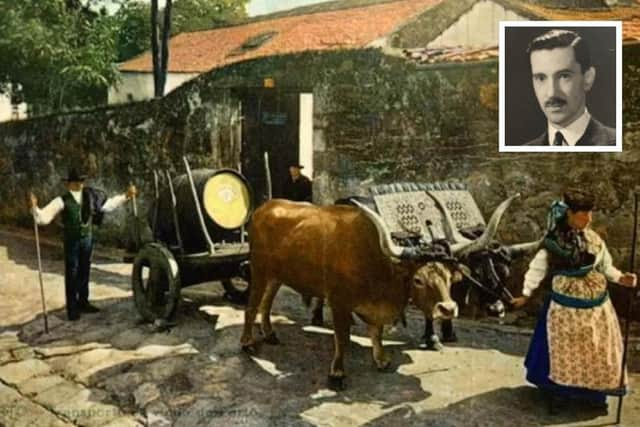 Unlike many landowners in the Clydesdale area, James Noble Graham did not make his money from coal mines but from the Port industry. Port was a popular drink as far back as the late 18th Century; one of the famous Port drinkers then was Judge Braxfield.
He drank a fair bit of port when he was in court and his judgement tended to be influenced by how much he had to drink. He was reputed to have said about a couple of Radicals, including Thomas Muir, that they would be 'none the waur for a bit of hanging'.
The Grahams were not involved with buying Port from the Douro Valley in Portugal until the 1820s when two brothers, William and John Graham, started the business.
Initially, they were not involved in the Port industry but they were owed money in Portugal and they agreed to take casks of port wine to settle the debt that they were owed.
Much to their surprise they made so much money that they became fully involved in the business. It was this business that enabled them to buy Holmhead. Subsequently they expanded into shipping, as well as lucrative business opportunities in India.
Initially everything was a success and the Grahams also purchased Stonebyres. However, the First World War and an abortive scheme to find oil in Egypt led to bankruptcy.
Family tragedy also played its part in bringing an end to the Grahams presence in Clydesdale.
The last James Noble Graham was returning from India in 1929 when he fell off a gangplank and subsequently died of his injuries.
The net result was that both Carfin and Stonebyres estates were sold and ultimately demolished.
Meanwhile, the Port business was sold to Symingtons – the biggest company currently involved in the sale of Port.
This is a family business which has had an interest in Port for five generations. The Symingtons kept the brand name and Graham's Port still survives, along with other well-known brands such as Dows and Cockburns.
Probably its unique flavour saved it which is my reason for recommending it.
You can at least say you're sampling a wee taste of Clydesdale's long and proud history while you imbibe – any excuse – and, believe me, you won't be disappointed!