Public rally to support a new Atlas of Scotland
These days, with Google Maps and sat navs at our fingertips, you'd think there would no longer be an appetite for a traditional atlas.But you would be wrong, very, very wrong.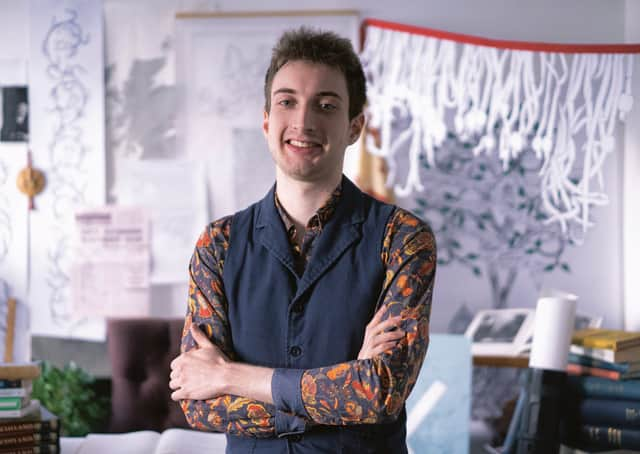 Hard work...begins now for writer and artist Andrew Redmond Barr, following his successful Crowdfunder.
The latest project from freelance artist and writer Andrew Redmond Barr proves this point perfectly.
He launched a 60-day Crowdfunder on September 26 to raise £12,000 to create a new Atlas of Scotland.
And within just four days, complete strangers had stumped up all the cash.
Hand-drawn....a small section of the north east map which Andrew has been busy working on.
Andrew was delighted by the response but now he has the daunting task of actually producing the goods!
The 28-year-old is already hard at work on the project, which he hopes to complete in around a year's time.
He said: "I never imagined the atlas would receive such wonderful support, passing the 50 per cent mark within the first 24 hours.
"It shows just how much of an appetite there is for a traditional atlas.
The greater Glasgow area has also been lovingly hand-crafted by Andrew for inclusion in the atlas, which he hopes to complete within a year.
"Modern technology may have replaced traditional paper atlases but I believe there is still something valuable about being able to see a whole vision of a country, laid out and illuminated on paper.
"And it appears that hundreds of other people agree with me.
"It really seems to have struck a chord – the majority of the funds were donated by complete strangers, which was pretty humbling.
"The crowdfunder will remain open for 60 days though and any extra support would still be hugely appreciated.
Time-consuming project...but it's a challenge that Andrew can't wait to get stuck into.
"The more money raised, the bigger and better the Atlas of Scotland will be."
By donating to the fundraising campaign at AndrewRBarr.com supporters can sign up for a number of rewards, including finished hardback copies of the Atlas, map prints and more.
Andrew will also be keeping followers regularly updated on his progress, with posts and video diaries cataloguing his work.
While delighted that the atlas has sparked such interest, he now has the pressure of expectation weighing on his shoulders.
Andrew said: "It's a daunting challenge but I'm looking forward to getting stuck into it.
"The atlas will cover the whole of Scotland. I need to make sure I don't miss anything out so it will be a time-consuming project.
"The fact that so many people are now supporting it adds its own pressure but it helps focus the mind too!
"It's good to have something else to focus on during this pandemic, with a positive outcome.
"The atlas will be a celebration of Scotland which sheds new light on the country as a whole."
The Atlas of Scotland will be the first major Scottish atlas of its kind for more than 100 years.
For while road and rail atlases have been published in recent times, Andrew's will hark back to traditional atlases more common place in the early 1900s.
And the way in which it was funded is also a nod to that era.
He explained: "Looking back at how other atlases came about, going back 100 years or even further, all of the big atlases of Scotland seemed to work to a subscription model; they all had benefactors whose names were printed at the back of the atlases.
"I thought it would be good to retain that model.
"It's also quite laborious; historically, teams of people would have worked on them.
"So I saw the crowdfunder as a good way to get people interested in the idea before it was published."
Produced as a visually striking hardback book, combining text with illustrated maps hand drawn by the author, the Atlas of Scotland will shed new light on Scotland's size and resources and its cultural and political history.
It will also herald its long-standing as one of the ancient kingdoms of Europe and the richness of its international connections.
Andrew said: "Returning to map-making in pen and ink, and retelling the story of Scotland's history and culture, the Atlas of Scotland aims to be a reflection of where Scotland stands today, as well as revealing one of the world's oldest nations in a whole new light.
"Atlases throughout history have been a snapshot of the times and circumstances in which they are made and the dreams and visions of the nations that make them.
"This atlas is meant as a rediscovery, an illumination of a country that is simultaneously growing in confidence and self-belief."
The atlas will have three main sections: looking back at the geology, moving onto the mapped out regions and then the history of individual towns and cities.
"I've already done some research and drawings but the hard work definitely starts now," said Andrew.
"There are so many angles to look at, from exploring the origins of place names to investigating international connections that people may not have heard about.
"The end product will be a traditional atlas in terms of its layout.
"It will begin with a study of the geology of Scotland and its rock formations, than an overview of the regions mapped out, before taking a closer look at towns and cities across the country.
"I'll be doing all the text and illustrations myself as I really enjoy combining the two, even though I'm not a trained artist."
The idea for the atlas first came to Andrew while penning his last book on the Declaration of Arbroath.
Having relished that, he wanted to get his teeth into something even meatier!
He said: "I enjoyed making Scottish history and culture accessible to all and thought it would be good to do something all encompassing – that's how I first hit on the idea for this book."
It is estimated that between 28 and 40 million people worldwide claim Scottish ancestry so the finished work is certain to have an audience, not just at home but globally.
And while none of us know what our lives will look like this time next year, Andrew already has plans to promote the work online – in case he can't attend traditional book launches.
He added: "I'll be creating digital content looking at different aspects of the atlas.
"If public events are still not possible next year, I can use them as an alternative to raise awareness instead of a traditional book launch."
Third book from writer with a passion for art and politics
Andrew Redmond Barr is a freelance writer and artist from Edinburgh, with a keen interest in Scottish literature, history and culture.
He graduated from Napier University in Edinburgh with a Masters degree in English in 2014, his particular interest being Scottish poets.
His first book, Summer of Independence, was published in 2016, looking at the Scottish independence referendum from a cultural perspective.
In 2019 he launched his second book, The Illustrated Declaration of Arbroath, at the National Records of Scotland in Edinburgh.
The book was designed to be a creative and accessible celebration of the Declaration of Arbroath in the run-up to the document's 700th anniversary in April 2020.
It led to a number of spin-off projects including the creation of a schools packs in partnership with the National Records and Historic Environment Scotland.
While Andrew is not a trained artist, it is a medium he is also very passionate about.
He was one of the co-founders of the National Collective, a group of artists and creatives who supported independence.
Andrew also staged a solo exhibition on the life of Robert Burns, in collaboration with the Saltire Society, using his own illustrations to look at the National Bard's connections with power and politics.
To find out more about Andrew's work, visit his website at andrewrbarr.com.