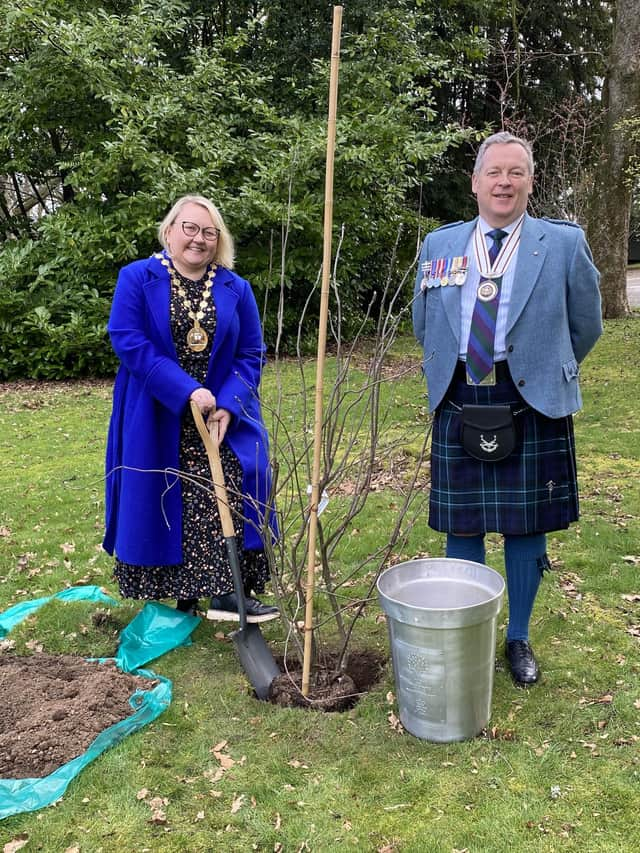 Lord Lieutenant, Mrs Jill Young MBE presented the beautiful semi-mature Rowan to East Dunbartonshire in the Autumn and Provost Gillian Renwick, along with Deputy Lord Lieutenant Mike Edwards OBE DL, recently planted the tree within the grounds of Kilmardinny House in Bearsden.
The 'Tree of Trees' initiative is part of the living legacy in honour of Her Majesty, joining over a million trees already planted across the UK as part of The Queen's Green Canopy.
Lord Lieutenant of Dunbartonshire, Mrs Jill Young MBE, said, "As His Majesty the King's representatives, the Lord Lieutenancy of Dunbartonshire selected East Dunbartonshire Council to receive one of these special trees to honour Her Majesty the Queen.
"The tree is a living legacy of Her Majesty who planted over 1,500 trees all over the world during her 70-year reign.
"It is also a celebration of the community of East Dunbartonshire, and it is my hope that this 'Tree of Trees' will raise awareness of the need to plant and care for trees in our natural environment."
Provost Renwick said, "It was an honour to accept this traditional Scottish Rowan from Lord Lieutenant Mrs Jill Young MBE on behalf of the people of East Dunbartonshire.
"The tree was planted in a lovely spot,surrounded by a variety of other tree and plant species within the beautiful gardens. The embossed pot we received will serve as a decorative planter within Kilmardinny House itself.
Provost Renwick, added, "We also have a Tai-Haku or a Great White Cherry tree in Woodhead Park, Kirkintilloch, which was planted last March as part of Her Majesty's Platinum Jubilee Celebrations.
"The Queen's Green Canopy Initiative was very special to Her Majesty, and I am pleased East Dunbartonshire has actively contributed to the scheme. The trees will serve as a fitting reminder of Her Majesty for many years to come."