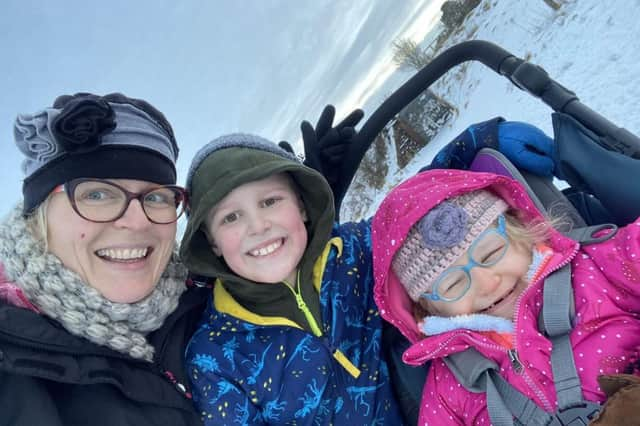 Sally, Silas and Sia are pictured all wrapped up for the cold weather this winter, which they got a helping hand to get through from the virtual hospice team at CHAS.
Six-year-old Sia Sneddon has Aicardi syndrome, a rare neurological condition which causes seizures and developmental delays.
Throughout lockdown, Sia, her brother Silas (8) and parents Scott and Sally from Wilsontown have been supported by the virtual hospice service created by Children's Hospices Across Scotland.
Now celebrating its first anniversary, the Sneddons were more than happy to champion its services.
Sally, who is a clinical psychologist, said: "Sia loves virtual storytelling with Elaine, a CHAS volunteer.
"At first we weren't sure she would be able to use Zoom as she has a visual impairment but she made it very clear that she could. She's a very determined wee girl!"
Sia also takes part in virtual music therapy with the charity Nordoff Robbins; she loves everything from country to metal.
Sally added: "Robin House introduced Sia to music therapy from a very young age. From her very first session, she engaged in a way we'd never seen before. It was like watching our child come to life and it brought tears to our eyes."
What the family appreciate most about CHAS is the proactive attitude that staff and volunteers have taken in the face of staggering adversity.
Scott, who is a solicitor, added: "CHAS has been amazing this year. The team's attitude is very much 'how can we do that' rather than 'we can't do that.' They've not let a global pandemic stand in their way!"
The first of its kind in the world, the virtual hospice now supports families across Scotland.