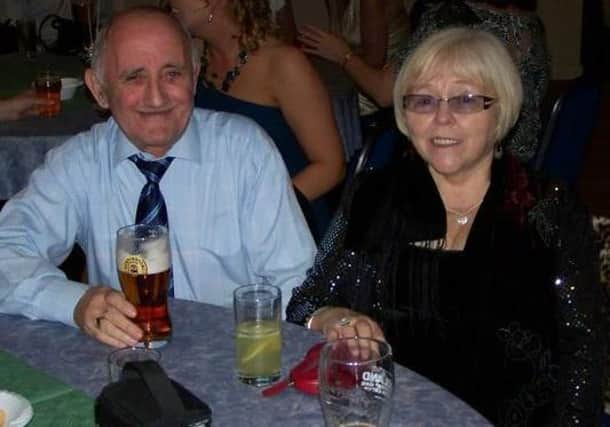 Young Billy Lees was a hard-grafting worker at Glasgow's Grand Central Station and was having a welcome break from his duties on a Friday night when a sharp-eyed girl clocked him at a crucial stage in the evening – The Ladies Choice!
The lady in question was Glasgow Corporation employee Rene, the lady who would become his wife in a move that all started when she asked him to dance!
It would not be long before the pair would wed in St Andrew's Cathedral and start a life together that began in Glasgow but would see the pair move through to the new houses in Westfield in the 1970s.
Married life has brought the Craigside Court dwellers two children Stephen and Laura plus six grandsons and one granddaughter.
The couple have enjoyed travelling round Europe on foreign holidays to their favourite destinations such as Malta and Cyprus.
Former Merchant Navy man Billy (82), who is a tireless community champion for the town through his involvement with Cumbernauld Community Forum, Westfield Pensioners Group and many other groups, told us : "We've had our ups and downs – no relationship is perfect.
"B ut we have a lot of good times at the end of the day and have a great family.
"The good thing too is that we are still able to get out and about as well our health is still up to it and that's obviously really important at our stage.
"So I think we've done really well."
When asked about married life, Renee (81), laughed: "It's been mixed!
" For the first 10 years Billy was away at sea but then we came to Cumbernauld to a nice house and the lovely people here – we've been really happy.
"We've enjoyed living in the town.
"It's so hard to celebrate at a time like this especially but we met with the family over Zoom and it was great
"I think we all enjoyed doing that and it was a lovely day so we were quite pleased at the way it went," she added.
The Cumbernauld News would like to congratulate Billy and Renee on this landmark occasion of their Diamond Anniversary.