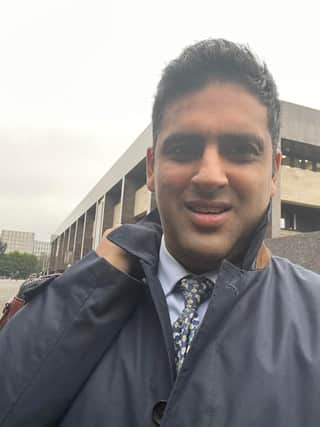 Haroun Malik has urged the Scottish National Party to publish a delayed review of Scotland's education system immediately.
Lawyer Mr Malik has made the call after the Scottish Conservatives defeated the SNP in Parliament earlier this week securing cross-party support on calls to release the Organisation of Economic Co-operation and Development review before the election in May .
The SNP Government were due to publish the review this month but have since confirmed it won't be published until after the election .
And Mr Malik says that this proves SNP Education Secretary John Swinney is 'running scared' of the report's findings.
The Tory said he is also backing plans by the party for a national catch-up plan to prevent a lost generation of pupils who have had schooling severely disrupted due to the Covid pandemic.
Mr Malik stated: "This report is sitting on Mr Swinney's desk right now but it is clear he doesn't want to be transparent with voters ahead of the election. The Scottish Conservatives have demanded this report is published immediately and secured cross-party support for this.
"I am also supporting our party's proposals to set up an immediate and urgent national catch-up and tutoring scheme to avoid a lost generation of pupils including many right here in Cumbernauld and Kilsyth who have had to endure such disruption. We have lobbied the First Minister directly over this and are pushing for urgent meetings to get this off the ground.
A Scottish Government spokesperson said: "The OECD will be holding an engagement event in March, where they will share emerging messages with stakeholders, providing a further opportunity for key partners and practitioners in Scotland to inform the final report,
"The OECD's independent review is conducted by their own analysts and international experts
"They decide how to do their work and which evidence to take. Their approach follows the OECD's tried and tested methodology for a ssessments like this."