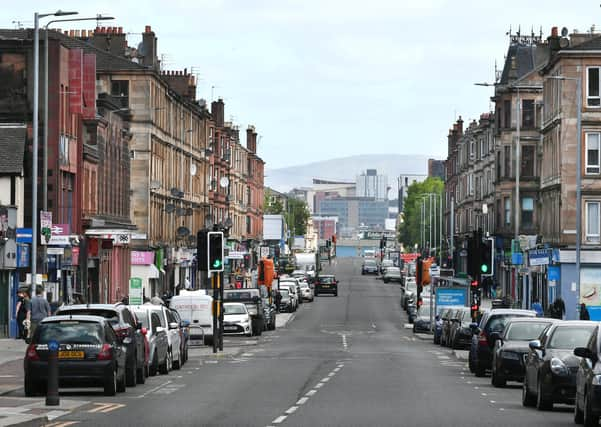 The proposed pedestrianisation of George Square is also set to be brought forward as part of Glasgow City Council's Spaces for People programme.
Councillors backed the roll-out of a number of measures, designed to create a safe environment for businesses and their customers and promote active travel, at a meeting on Thursday.
The scheme, supported by £3.5m from Sustrans Scotland, will see footways widened to make it easier to move around the city.
Glasgow's Green councillors want the changes to be made permanent.
Major city centre streets such as St Vincent Street, Argyle Street, Queen Street, Hope Street, Renfield Street and Bath Street will be impacted.
There will be a short-term suspension of one-third of the city centre's 2000 on-street parking spaces.
The council believes there should still be sufficient space to park as car parks and multi-storeys, which provide 12,000 spaces, are rarely more than 50 per cent full. Disabled parking bays in the city centre will not be reduced.
Plans are also being drawn up for 'park and stride' and 'park and cycle' facilities at car parks across the city.
Council leader Susan Aitken said: "The easing of the pandemic lockdown means that repurposing our streets is not just an ambition but a matter of urgency.
"People need the safe space and confidence to observe physical distancing, get on with their lives and accelerate our recovery. We must respond to that need now."
Other measures being considered include increasing the time the green man is displayed at junctions or reducing the traffic light cycle times to help pedestrians.
More on-street cycle parking will be installed and the possibility of an e-scooter trial is being explored.
Ms Aitken added: "From reconfiguring our roads and footways to provide extra space for pedestrians, mobility and wheelchair users, to the creation of temporary cycle lanes; different combinations will be considered to fit the needs and characters of different neighbourhoods, as well as our city centre.
"The need for space is widespread and immediate. Safer streets are about restoring confidence, vibrancy, prosperity. They're also about saving lives."
The council intends to bid for more Sustrans funding after it was revealed an initial £10m funding pot has been increased to £30m.
A Green Party amendment, which called for all temporary measures to be evaluated, with a view to making them permanent, was backed by the council's City Administration Committee.
Councillor Allan Young, co-convener for the Green Group, said: "Clearly these measures will have an immediate public health benefit as we emerge from lockdown but they can also help Glasgow's long-running battle with air pollution as well as delivering on our commitments to the climate emergency."
Measures previously introduced by the council include closing Kelvin Way to traffic at the start of May and a Clydeside pop-up cycle lane, which runs between Saltmarket and the Clyde Arc.
Councillor Anna Richardson, city convener for sustainability and carbon reduction, said: "Lockdown has clearly had impact on people's choices with more people walking and cycling than before.
"Spaces for People gives us a chance to nurture those choices, encouraging people to keep with active travel and helping to maintain physical distancing as a way to guard against a resurgence of the virus."
The temporary re-allocation of road space for physical distancing at the front of shops outside the city centre is also being investigated.
Areas under consideration include Partick, Shawlands, Maryhill and Dennistoun. Areas such as Pollok, Drumchapel, Easterhouse and Castlemilk will also be examined.
Current 'rat runs' could be temporarily closed to vehicles to encourage walking and cycling.