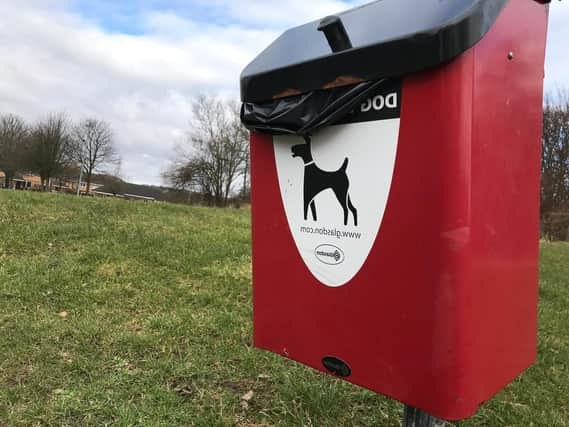 A Conservative Group motion at the Council on Thursday called for action on dog fouling, given the increase in dog ownership during the Covid pandemic.
An SNP Group amendment added the issue of dog-fouling in open spaces and the need for waste bins on identified dog-walking areas.
The Conservatives refused to accept the additions from the SNP amendment.
The Labour Group supported the Tory stance and defeated the SNP amendment by 39 votes to 34.
Councillor Johnston, who represents Cumbernauld East Ward, said that it failed to take several key factors into account – not least the individual characteristics of Cumbernauld which is the biggest town in North Lanarkshire.
He said: "I am appalled by this rejection.
"I told the council that I was involved in trying to get dog fouling bins on popular dog-walking routes and mentioned to the wooded rear of Cumbernauld Academy as an example.
"From my casework I understand that the council is trying to restrict litter bins distribution to residential streets only, because this is handier for pick-up on bin-lorry routes.
"I pointed out to the council that the New Town of Cumbernauld was designed to have leafy walking footpaths, separated off from our residential streets.
"Dog walkers would need bins on these routes because of this.
"Unfortunately, the Labour-Tory rejection of this specific footpath need makes it virtually impossible to get the current new litter bin policy overturned.
"This hits particularly badly in Cumbernauld.
"The SNP Group stated that we were happy to support the general Conservative Group motion - but with our specific amendment items added.
"From my local casework in Abronhill and Kildrum I can only fear that Cumbernauld's unique footpath landscape will risk a public health hazard.
"And this is because of party-politicking by Motherwell-based politicians."​​​​​​​​​​​​​​​​​​​​​​​​​​​​​​​​​​​​​​​​​​​​​​​​​​​​​​​​​​​​​​​​​​​​​​​​​​​​​​​​​​​​​​​​​​​​​​​​​​​​​​​​​​​​​​​​​​​​​​​​​​​​​​​​​​​​​​​​​​​​​​​​​​​​​​​​​​