Giffnock Soccer Centre praised in parliament as it marks 25 years in operation
Giffnock Soccer Centre has been congratulated at Westminster in a motion tabled by East Renfrewshire MP Kirsten Oswald.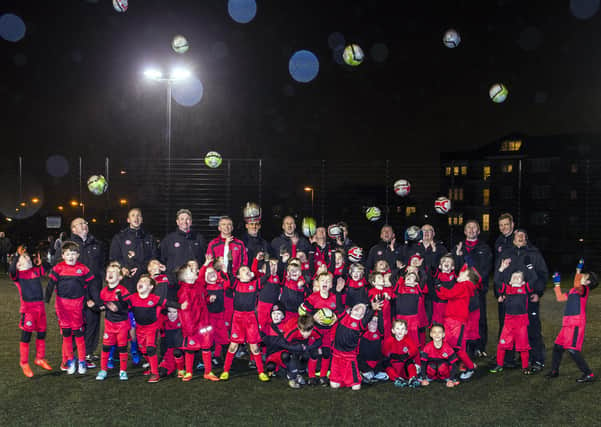 The Soccer Centre has enjoyed a successful first 25 years of operation, during which it has trained thousands of players, including current captain of the men's Scottish national team, Andy Robertson.
Just 14 parents started Giffnock Soccer Centre to provide a safe, fun environment in which children aged 5-12 could develop their footballing skills.
It has grown to over 200 coaches and 1,200 children of all abilities, including a separate section for girls and a section for children with disabilities.
The club are accredited to the Positive Coaching Scotland programme and are recognised by the SFA as a Disability Inclusive Club.
In its early years, the club used various East Renfrewshire facilities until it was able to acquire its own facilities at Eastwood Park and Norwood Playing Fields in 2014.
It has helped establish a local East Renfrewshire League, which began in 1995 with 23 teams, and now provides non-competitive fixtures for 200 teams.
The club has worked with the Scottish Football Association (SFA) on coach development and has retained its emphasis on providing football for all abilities.
Kirsten said: "This is a tremendous success story that has grown out of small beginnings and now provides football coaching for over 1,000 children, including for children with disabilities.
"It is good to know that some of those who join the club as children stay on to help coach the next generation, which is a really good example of the strong community spirit generated by community sports.
"The importance of this kind of grassroots football activity is also shown by the fact that some participants go on to the senior game, including current Captain of the men's Scottish National team, Andy Robertson.
"I would like to wish Jim Docherty and the team at Giffnock Soccer Centre all the best for the next 25 years and beyond."
Jim Docherty, incoming Chair of Giffnock Soccer Centre, said: "On behalf of Giffnock Soccer Centre, I'd like to say how delighted we all are that the efforts of what we call 'the GSC family' over the past 25 years have been recognised in this Early Day Motion.
"Indeed, the congratulations we have received from all over, be it the football world, local politicians and dignitaries, past players and coaches are truly remarkable, and serve only to demonstrate that there is a huge appetite within communities in Scotland for large well-run community clubs like us to continue to serve their local area.
"While it's great to celebrate 25 successful years, we look forward to the next 25 with even more ambitious plans to extend and improve our facilities for the next generation of footballers, and to build further on recent projects to improve and our social and community engagement and impact."