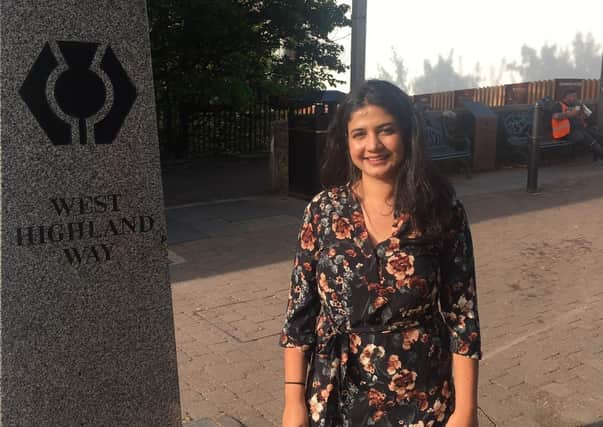 Celebrated campaigner Roza Salih is aiming to be the first refugee elected to Holyrood.
She hopes to be selected as the SNP candidate for Clydebank and Milngavie at next year's Scottish elections.
Sitting SNP MSP Gil 
Paterson revealed recently he is stepping down.
Ms Salih was born in Iraqi Kurdistan and moved to Scotland as a refugee at the age of 12. She first came to public attention when, along with a group of girls from Drumchapel High School, took on the Home Office to stop the deportation of one of their school friends.
The group which would go on to be dubbed the 'Glasgow Girls' would also attempt to stop dawn raids by the UK Border Agency and lobbied the then Scottish Government on the issue of unlawful child detention.
The story of the 'Glasgow Girls' would go on to be told on stage in a theatre production 
delighting crowds across the country with its humorous and heart-warming story of West of Scotland community 
comradery.
Since the Glasgow Girls, Ms Salih has continued her fight against injustice going on to become a leading light in the Unite Trade Union and vocal campaigner for a fairer UK 
immigration system.
She also currently works as the office manager for Glasgow South West MP and SNP Fair Work and Employment Westminster spokesperson Chris Stephens.
Speaking about her decision to stand for selection in Clydebank and Milngavie, Ms Salih said: "I travelled over three thousand miles from Kurdistan to Scotland and I was blown away by how quickly and full-heartedly Scotland and its people welcomed me.
"I would now like to make the slightly shorter journey, just along the road from where I grew up in Drumchapel where I wish to repay the love and opportunities that 
Scotland has given me by serving the people of Clydebank and Milngavie in our national parliament."
If elected Ms Salih would be one of the first women from an ethnic minority background to be elected to the Scottish Parliament but she wants SNP members to judge her on her credentials first and foremost.
She said: "It would, of course, be a huge honour to become one of the first female BAME MSPs, I do, however, think that SNP members and voters should consider my candidacy purely on its merits.
"I have a proven track record as an activist and trade unionist and my time working for Chris Stephens has allowed me to help so many people. Now I'd like to take that experience and use it to help the communities across Clydebank and Milngavie."
She added: "I know I have big shoes to fill, as Gil has been an unfaltering community champion. However, I have proven myself over the years to be willing to fight for fairness and I've shown I can get things done.
"The people of Clydebank and Milngavie need someone with that sort of record to be their voice in Parliament as we look to recover from the effects of Covid-19 and look to the benefits that independence can bring to the constituency and the whole country."