Tribute paid to Duke of Edinburgh's rich life of service
Tribute has been paid to the Duke of Edinburgh who will be laid to rest on Saturday, (April 17) at St George's Chapel in Windsor after passing away last week just two months shy of his 100th birthday.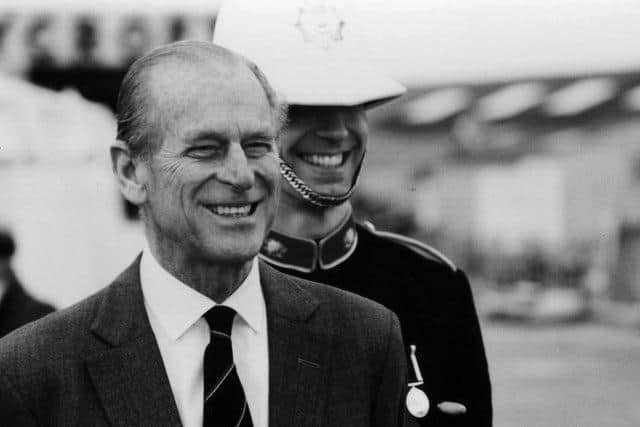 Hailed for his military bearing, sense of adventure, debonair ways and cut-to-the-chase chat, the Corfu-born Duke has inspired two tributes from two prominent figures in Lanarkshire life in particular – Provost Jean Jones and the Lord Lieutenant of Lanarkshire, Lady Susan Haughey.
Provost Jones said: "On behalf of the residents of North Lanarkshire, I send my deepest condolences to Her Majesty the Queen and her family following the death of HRH Prince Philip the Duke of Edinburgh
"Prince Philip bore his recent illness with courage and determination and his passing marks a sad day for people across the country. "
The Lord Lieutenant added: "I was deeply saddened to learn of the death of Prince Philip - Duke of Edinburgh and on behalf of the Lanarkshire Lieutenancy I offer my sincere condolences to Her Majesty The Queen and all her family at this difficult time."
"Prince Philip's commitment to public service throughout his life has been exceptional.
"The Duke of Edinburgh Award Scheme he established in 1956 has over the ensuing years given millions of young people worldwide the best possible start in life, building confidence, resilience and embracing the importance of team working, essential skills significantly improving their chances of moving forward in education and getting a job.
"Outcomes from the scheme have been inspirational reflecting the Duke's drive and determination to make a positive difference to the lives of so many people in this project and in the many others he has lead and supported with such distinction.
"As we mourn his loss we also celebrate the life of the longest serving royal consort in British history, having only retired from official engagements just over three years ago at the age of 96."
BBC One will broadcast the funeral at 3pm on Saturday and a minute's silence will be held at this time.
Details too have been released about an online book of condolence - and for more infomation on how to contribute, see our separate feature on page 13.