Glasgow is set to see some light snowfall this week, according to the latest forecast from the Met Office. Residents may have even clocked a few flakes last night as the region is hit by freezing temperatures.
After a recent update from the Met Office, Glasgow has now been issued a yellow snow warning for Thursday and Friday. The city should see light snowfall set in toward the end of Thursday.
In fact, the Met Office has given the exact time residents across Glasgow should start looking out their window. Conditions are expected to stay bitterly cold until Thursday night before snowfall sets in on Friday morning.
The first signs of snowfall will arrive at midnight on Friday with a 60% percent chance of precipitation. According to the Met Office, snowy conditions will continue throughout Friday morning until 9am when precipitation lowers to 20% and conditions change to sunny intervals.
Snowfall isn't expected to pick up again for the rest of Friday and conditions are likely to stay mostly dry heading into the weekend. On this week's weather, Senior meteorologist Criag Snell said: "We do see a bit of a change with even colder air coming through and then an increase in risk of sudden disruption due to some sleet, snow and some ice."
Strathclyde weather forecast:
A mostly dry and cold day with some good spells of sunshine. A few light snow showers are possible at times in the afternoon. Light northwest winds. Maximum temperature 4 °C.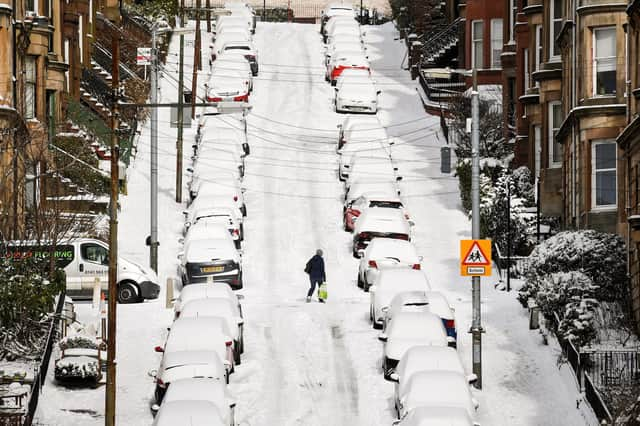 A few light showers possible across the Isles at first this evening. Otherwise a dry evening and night with clear skies. Light northerly winds giving a bitterly cold night. Minimum temperature -7 °C.
Another cold day, although feeling pleasant in light winds and lengthy sunshine. Dry and sunny. Maximum temperature 4 °C.
Outlook for Thursday to Saturday:
Strengthening winds and snow spreads north Thursday, clearing east on Friday to leave a cold dry night. Mostly dry Saturday, but sleet and snow possible later.