Cadbury has released its first-ever low-calorie Delight range for chocolate lovers who are watching their waistlines. The new Cadbury range is just 91 calories a bar, and chocolate fiends have three different Chocolate Delight flavours to choose from.
Each Cadbury Delight bar is full of soft nougat with a caramel layer inside. The range will launch in three exciting flavours – salted caramel, orange and caramel, and hazelnut flavour and caramel - set to delight taste buds across the nation.
Abi Eayrs, Cadbury Delights Brand Manager, comments; "We're thrilled to launch Cadbury Delights in time for the new year and can't wait to see chocolate fans' reactions to the new range. Whether it's a post-lunch treat at work or something to settle an evening sweet-tooth, we're delighted to offer the same great Cadbury taste in this exciting new 91-calorie range.''
Cadbury Delights come in a five-bar pack and will be available exclusively from Asda from January, before rolling out to other major food retailers in February. As part of Cadbury's pledge in 2020 to help consumers make healthier, informed choices, all Cadbury chocolate bars sold as part of a multipack have been brought to under 200 calories.
Cadbury Delights will join this range as the first treat under 100 calories from Cadbury specifically made for adult consumers. Each box of five will cost £1.99 recommended retail price.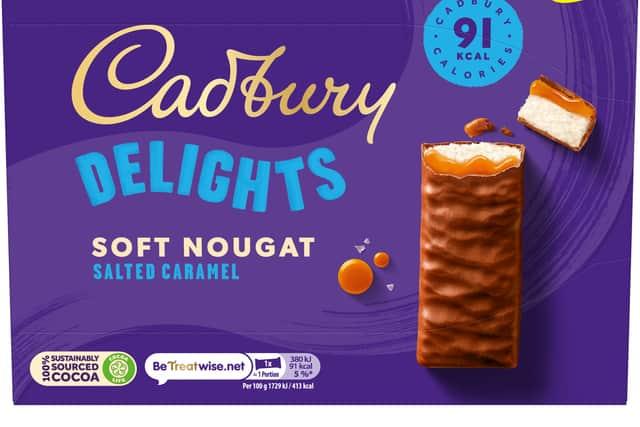 Cadbury Delight bars - where to buy
Cadbury Delight bars will be available exclusively at Asda throughout January 2023. They will then launch nationwide in February.
Cadbury Delight flavours
Cadbury Delights Salted Caramel: Milk chocolate with soft vanilla flavour nougat, rice crisp centre and a layer of salted caramel. 
Cadbury Delights Orange & Caramel: Milk chocolate with soft orange flavoured nougat, rice crisp centre and a layer of caramel.  
Cadbury Delights Hazelnut Flavour & Caramel: Milk chocolate with soft hazelnut flavour nougat, rice crisp centre and a layer of caramel.