Jeremy Renner has taken to social media to share his first photo since his snow ploughing accident on New Year's Day. In the image, Renner is seen in a hospital bed, with a bruised eye. The caption reads: "Thank you all for your kind words. I'm too messed up now to type. But I send love to you all."
The image Renner shared received thousands of messages of support, including messages from his fellow Marvel co-star. Chris Hemsworth, Thor himself, who is one of the original six Avengers opposite Renner's Hawkeye said: "Speedy recovery buddy. Sending love your way!"
Chris Evans, who played Captain America, also commented saying: "Tough as nails. Love you buddy." While, Guardians of the Galaxy's Chris Pratt said: "Continued prayers your way brutha."
Marvel directors Renner previously worked with on Avengers Endgame and Infinity War, the Russo Brothers, said: "Sending all of our love, brother, and hopes for a speedy recovery." Taika Waititi also commented: "My brother, I love you".
Other celebrities such as Kate Hudson, Orlando Bloom, and Jimmy Fallon were also amongst the thousands of well wishers in the comments. Fallon commented saying: "Lotsa love out there for you bud." Vanessa Hudgens also said: "Sending so much love n healing!"
It was confirmed on New Year's Day that Renner, 51, had been critically injured after being run over by a snow plough weighing more than 14,000 pounds. During a news conference Sheriff Darin Balaam of Washoe County said the plough was being used to tow his car. Balaam also confirmed that Renner had been helping a family member who had gotten stuck in the snow.
The Sheriff added that Renner had gotten off the plough to speak to the family member when it began to roll, and while the actor tried to get back into the driver's seat he was run over.
His family released a statement on January 2, 2023 that read: "We can confirm that Jeremy has suffered blunt chest trauma and orthopaedic injuries and has undergone surgery today, January 2, 2023."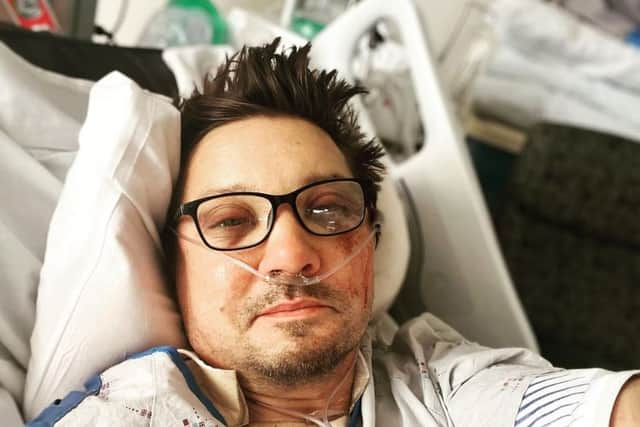 They said: "He has returned from surgery and remains in the intensive care unit in critical but stable condition. Jeremy's family would like to express their gratitude to the incredible doctors and nurses looking after him, Truckee Meadows Fire and Rescue, Washoe County Sheriff, Reno City Mayor Hillary Schieve and the Carano and Murdock families. They are also tremendously overwhelmed and appreciative of the outpouring of love and support from his fans."