M&S has launched its biggest ever home cleaning range, featuring 60 affordable products inspired by a "zen-like spa". The range, named No Marks, All Sparkle, includes products made with bespoke fragrances blended in top perfume houses and also boasts seven fragrance-free products for sensitive skin.
The popular chain claims there's "no dirt, stain or mark" the range won't remove and that it's "our most high-powered, efficient cleaning range ever". A spokesperson said: "We've used up to 10 essential oils to create signature fragrances that harmonise together- think zen-like spa meets high performance cleaning.
"Formulated for everyone, [the range] is perfect for families, with a range of products with antibacterial and antiviral ingredients to keep homes clean, free of germs and smelling brilliant too. And for those with sensitive skin, look out for seven products without fragrance and enzymes, all endorsed by Allergy UK.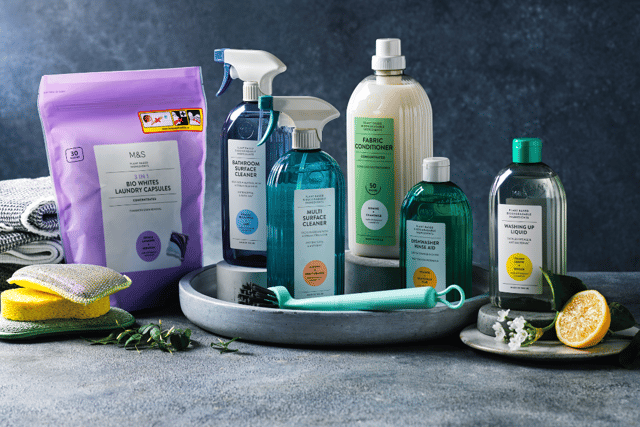 "Our laundry liquids and conditioners have been developed with quick wash cycles and low temperature washes in mind, meaning you can wash using up to 60% less energy but still get high performance cleaning."
The cleaning range is available to buy in M&S stores now. To find your nearest shop, visit the retailer's website.
List of some of the products available in the new M&S cleaning range with prices
Multi-surface cleaner with almond and sweet orange - £2 (750 ml) 
Bathroom surface cleaner with coastal eucalyptus and sage - £2 (750ml) 
Kitchen surface cleaner with Italian lemon and ginger - £2 (750ml)
Fabric freshener spray with French lavender and peony - £3 (750ml) 
Disinfectant (concentrated) with honeysuckle and willow - £3.50 (500ml)
Non-Bio laundry liquid (concentrated) with jasmine and green tea - £5.50 (1.5L) 
Fabric conditioner (concentrated) with jasmine and chamomile - £3.50 (1.5L)
3-in-1 Non-Bio laundry capsules (concentrated) with jasmine and green tea - £6.50 (30 capsules) 
Ironing water with jasmine and green tea - £2 (750ml)
Sensitive multi-surface cleaner - £2 (750ml) 
Sensitive washing up liquid - £1.50 (500ml)
Sensitive Non-Bio laundry liquid - £5.50 (1.5L)
Sensitive fabric conditioner - £3.50 (1.5L)
Sensitive 3-in-1 Non-Bio laundry capsules - £6.50 (30 capsules)
Sensitive laundry powder - £5 (1.43kg)