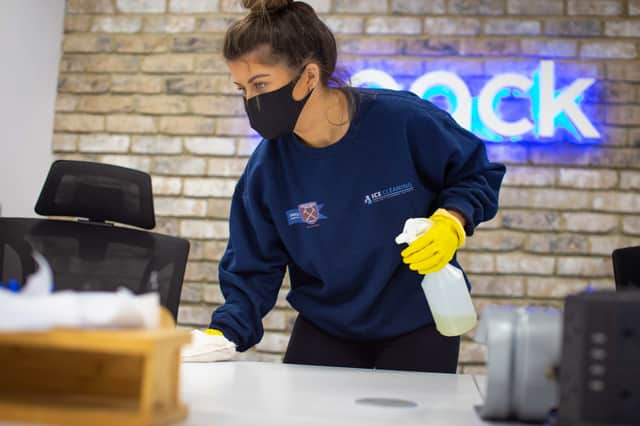 More than half of British workers would be happy to never return to the office – due to fears of germs, a lack of social distancing and being in a room with lots of other people.
A study of 1,000 employees who are currently working from home found two thirds would also feel uncomfortable about going back into their workplace full time.
Nearly six in 10 (56 per cent) feel anxious at the thought of being back in the office and 46 per cent are apprehensive, while 24 per cent are even feeling stressed.
Other worries include lack of personal space (39 per cent), colleagues not using hand sanitiser or soap (27 per cent) and not enough communal cleaning (27 per cent).
Having to commute topped the list of anxieties (51 per cent), followed by less flexible working (43 per cent) and social distancing not being taken seriously (42 per cent).
Of those polled, 28 per cent will travel to work on public transport, with 77 per cent of them being concerned about the cleanliness of the tube, bus or train.
Hygiene is at the forefront of people's minds
Zac Hemming, founding director for Ice Cleaning, which commissioned the study, said: "There is clearly some fear around going back to the office after settling into working from home during this past year.
"Hygiene is going to be at the front of people's minds more than ever and seemingly normal things from 'previous' life such as making tea rounds, sharing desks and using communal toilets might feel daunting.
"It's important both employees and employers feel supported in making the journey back to the office as smooth as possible.
"Cleaning is going to become much more of a priority for workplaces."
The study also found that to combat their anxieties, new habits workers vow to take on include carrying hand sanitiser (47 per cent), wearing a mask (45 per cent) and cleaning their own desk daily (41 per cent).
They would also like their employer to implement sanitising pumps around the building (56 per cent).
Half of those polled also want social distancing between desks (50 per cent), with four out of 10 also wanting a monthly decontamination deep clean as part of their office cleaning regime.