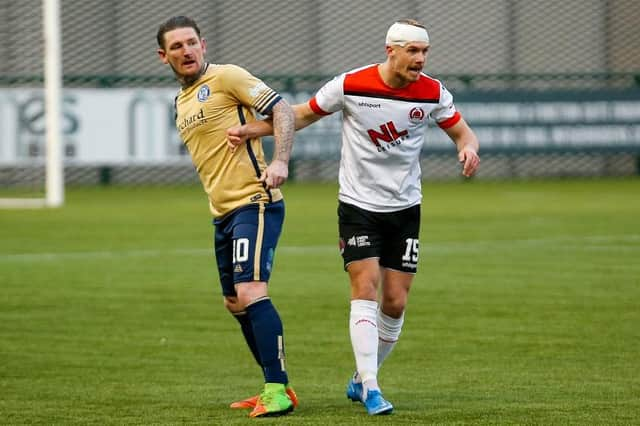 The Perth Premiership outfit, already Betfred Cup winners his season, are firm favourites to see off their League 1 opponents and book a quarter-final trip to the winners of Sunday's Old Firm showdown.
But Lang says players go into any game hoping to win, regardless of the opposition
"Obviously it's a tough draw," he told the Cumbernauld News.
"St Johnstone play good football from the games I've seen this season and they've done well in the league so it's just about going up there and doing everything you can to try and cause a cup upset.
"I didn't play, but against Ayr the boys were fantastic and caused an upset there so it's just about taking each game as it comes.
"In a sense I can understand why people will say it's a free hit because the league's what matters to us, of course it is.
"But it's the Scottish Cup, every player wants to play in these games and if you're a player for Clyde you want to be starting against a Premier League team.
"It's just about giving a good account of yourself on the day. We had Celtic last season in the cup and if we manage to get a result against St Johnstone we've got Celtic or Rangers waiting for us in the next round.
"That's all the motivation you need going into a game like this, it's a brilliant game to be involved in and if everyone clicks and does their job you just never know. We've got to be positive, be hard to beat and see what happens on the day.
"It's a game football, you just never know what's going to happen."
The game - kick-off put back to 5.30pm to avoid clashing with the Duke of Edinburgh's funeral - will be Clyde's 10th match in 22 days and Lang admits the hectic schedule has been tough to cope with and meant some adjusting.
He said: "Every single footballer I've ever met would prefer to play a game than to train.
"However it is a lot easier training than it is playing a game of football for 90 minutes every two days.
"I'm enjoying it and we're just trying to get through each game with the least injuries possible and manage ourselves in between times.
"You're going into game sometimes not 100 per cent, so it's not ideal but we're just trying to get through it and get as many points as we can.
"Each game is so important and you want to play if you're available so you've got to focus on recovery.
"Most times you're playing Saturday to Saturday and you've got a couple of days to relax, but there's none of that. As soon as you finish a game the sports scientist is there with your meal and your protein shake so you're recovering as soon as that full-time whistle goes now. Recovery is normally important, but not as important as it is just now."