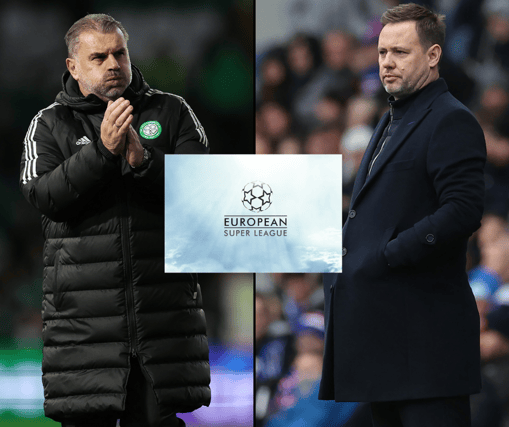 Bernd Reichart, CEO of A22 Sports Management has confirmed talks have been held with Scottish clubs about the prospect of joining a new European Super League (ESL).
The German businessman, who wants to reinvent football, claims "domestic kings in lesser leagues" will benefit from the new breakaway setup and it is widely expected that Celtic and Rangers will be invited to take part in the league in some capacity.
Initial plans to set up a seasonal 20-team European Super League two years ago spearheaded by La Liga giants Real Madrid was met with significant backlash due to the restricted nature of the proposal which focused on guaranteed matches for a small number of elite clubs that would always qualify automatically and wouldn't face relegation.
Several English Premier League clubs faced intense scrutiny from angered fans for agreeing to sign up to the ESL and, as a result, many of them withdrew their interest. That subsequently forced organisers to suspend operations and enter a dispute with UEFA.
Last year, European Super League chiefs announced their intention to relaunch the proposal with a revised multi-divisional format based on the inclusion of between 60 to 80 teams and ensuring at least 14 continental games per season.
Reichart, who has been hired to lead the revamp, didn't publicly state whether he had held discussions with either of the Old Firm giants due to the possible consequences that clubs could face from UEFA.
Speaking to the Daily Mail, he said: "Now we have a lot of domestic kings in less relevant leagues. You are the kings of your domestic territory but unable to compete with the league next door for the European crowns.
"For those clubs who are locked in a domestic league with limited potential, and where UEFA is not really a truly open and sustainable second frontier for their ambition, we want to be able to provide more significant earnings on the back of a higher amount of guaranteed matches.
"We want a more predictable, sustainable path within Europe. Even though promotion and relegation should always comply with the sporting merit principle.
Asked specifically if he had spoken to Celtic or Rangers, Reinchart stated: "I talked to clubs from Scotland, but I must respect their confidentiality and will fulfil that. It is still the case that the whole system of UEFA is set up to control everything and I really hope that at some stage we will have another discussion about the future of European football.
"It is striking to me that when clubs made a propsal for an alternative European competition they were threatened with being expelled. I think that football deserves a more open dialogue and I can assure you that I have spoken to a lot of people who want to know what we are up to.
"They want to learn about the court case, they want to know how our plans are evolving, but ask me not to let anybody know because they don't want calls from UEFA."