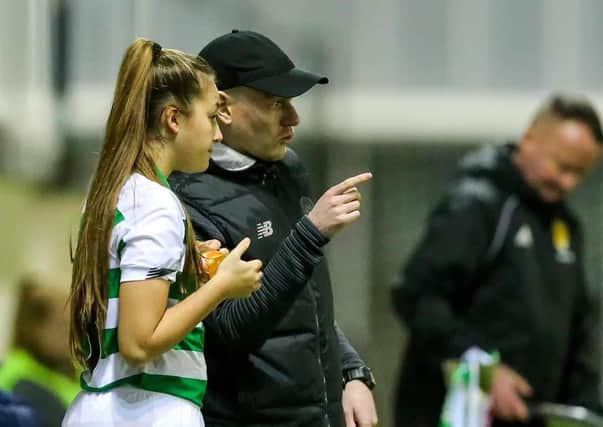 Edward Gallagher spent three and a half years at Celtic as under-19 head coach and girls' academy operations manager.
But now his focus is on Rossvale, as the Bishopbriggs club looks to make an impact on the growing women's game by running a team in the Scottish Women's Championship South in season 2021.
Should the club's application be successful, the team will be based at Huntershill, play on a Sunday and aim to be competitive and hopefully gain promotion into the Scottish Women's Premier League 2.
It's something of a homecoming for the former Rossvale youth player, who is delighted to be in at the start of what he hopes will be an exciting project.
He said: "I'm delighted to join Rossvale Football Club. It's a club I know well, having played here as a boy, so I've always had that a connection, making it an easier decision to return.
"Having spoken with the club on numerous occasions, I was completely sold with the plans for the women's team.
"The dedication of the girls' academy staff already here gives the programme a solid foundation and adding a highly competitive women's team will compliment their hard work."
"I've been a winner at every club I've worked for and Rossvale will be no different.
"We've already started putting in place a structure that replicates teams in the Women's Premier League with the appointment of a women's board, and recruiting a support staff of coaches that will benefit the players.
"We hope that with the structure and plans we will have, we will be able to attract some of the top young players who want to play senior football."
During his time at Celtic, as well as his role as under-19 head coach and academy operations manager, he also had a spell as interim manager of Celtic's senior women's team.
He left Celtic on a winning note, having won the Under 19 National Performance League and Scottish Cup at the end of 2019.
Before his time at Celtic, the UEFA B Licence and Scottish FA Children's A Licence qualified coach worked full-time in Finland at Åland United as an assistant coach in the Finnish Naisten Liiga and also within the UEFA Women's Champions League.
He also worked in California as an assistant coach for the women's soccer team at the University of California, Santa Cruz, and as assistant coach at Rangers in the Scottish Women's Premier League.
Rossvale have now appointed a dedicated Girls' and Women's Committee and adding a women's team now provides a full pathway for girls at the club, from under-7s to the women's team.
Committee vice-chairperson Jim Hill said: "We want to be a community based team where local people come to watch and support, whilst local businesses want to feel a part of the journey. Young girls from the surrounding areas now have a team where they can aspire to play for.
"The hiring of Edward Gallagher is a massive coup for the club. He's worked at the top professional teams in the country, and already players have started to take notice of Rossvale, and we hope it will allow us to recruit a team capable of competing at the top end of the Women's Championship."