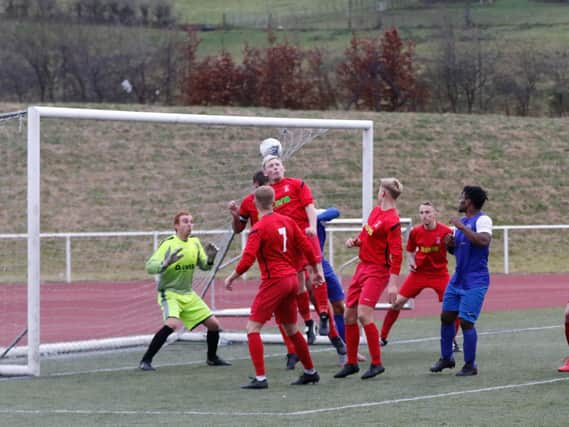 With the score level at 2-2 in the 85th minute, Kane rushed to the edge of his box to confront the Forth centre-forward, with the ball apparently striking the keeper's chest as he remained inside his penalty area.
To the general bemusement of those watching, the referee flashed a red card at Kane and, as Carluke had used all three substitutes, sweeper Maxi Neossi went in goal for the latter stages of the game.
"I thought Josh was hard done by, to be honest," Rovers manager Mark Weir told the Carluke and Lanark Gazette.
"I also thought he was right on the line, in his box, and I don't think the ball hit his hand or arm.
"I was very disappointed with Josh's sending-off, but once they make that decision, there's no changing their minds is there?
"I thought the referee was in the right place to make the right decision.
"I spoke to Josh. He's a young lad and I think that's the first red card of his career. He said the ball hit the top of his chest and he was on the 18-yard line, so it was a very strange decision."
Earlier in Saturday's West of Scotland League Conference B clash, Carluke had taken a 1-0 lead via an Eddie Haley penalty on 16 minutes after a Forth handball.
Dom Chiedu's own goal levelled matters at 1-1 after 33 minutes before Carluke's Dillon Duddy was controversially booked for diving on 58 minutes when it looked likely a spot kick would be awarded against Forth for a foul.
That yellow card was to prove costly for Carluke later.
It became 2-1 for Forth when the Kingshill Park team netted with a deflected shot, before the second own goal of the match on 83 minutes when Chiedu's long throw into the opposing penalty was inadvertently headed into his own net by a Forth player.
Then came Kane's late dismissal before Rovers were reduced to nine men when Duddy got a second booking for dissent.
"We deserved to go in front but we never kicked a ball after that," gaffer Weir added.
"For Dom's own goal, there was a lack of communication with Josh.
"There was a wee mix-up, Dom swung for the ball and it went over Josh's head and into the net."
On the Duddy booking for diving and second booking for dissent, Weir added: "From where I was standing, I thought it was a penalty. Some you get, some you don't.
"I wasn't happy with Dillon's second booking because he has a reputation for dissent, but he said it was for anger at himself so he punched the ground.
"When Forth scored their second with that deflected shot, I thought it wasn't going to be our day.
"In the end, a draw was probably a fair result. I was delighted to see our equaliser hit the back of the net."
Saturday's game was played on the all weather surface at Carluke's John Cumming Stadium. Forth were supposed to be the home team but their Kingshill Park pitch was the worse for wear after some torrential downpours.
Fixtures this Saturday are: West of Scotland League, Conference C – Glasgow Perthshire v Lanark United (1.45pm); Soccer Shop Challenge Cup 2nd Round – Forth v Threave Rovers, Whitehill Welfare v Carluke (1.30pm).