Cedric Kipre being linked with West Ham move is no surprise to ex-Motherwell team-mate Trevor Carson
Ex-Motherwell defender Cedric Kipre being linked with a switch to English Premier League outfit West Ham United comes as no surprise to his ex-'Well team-mate Trevor Carson.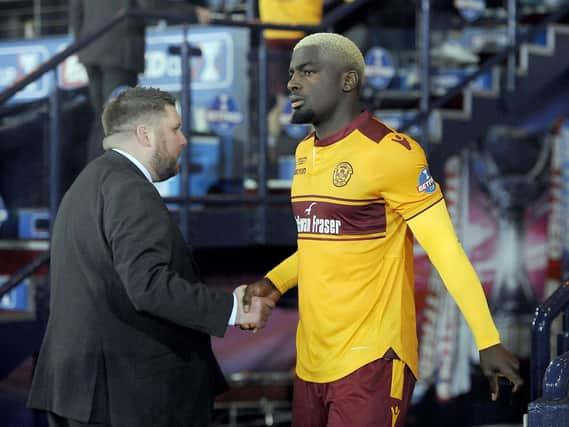 The Northern Irish keeper, who played alongside Kipre as 'Well reached both national cup finals in 2017-2018, thinks the Wigan Athletic centre back (23) is ideally suited to England's top flight.
Carson: "I'm not surprised Cedric's been linked with a move to West Ham.
"He was great for us, you could see he had all the attributes.
"But Cedric had ups and downs in his first year with us as well. He was raw, he was rash at times, he got a lot of sendings off.
"Everything didn't go smooth for him but you just saw he had all the tools to become whatever he wanted to be.
"Me and Peter Hartley used to say: 'He could be anything'.
"He's a man mountain and he's such a humble boy. He was a young French lad coming to live in a wee flat in Hamilton.
"The way he integrated and learned English, it just said a lot about him.
"He's such a nice kid and he deserves everything he gets because he is just so dedicated to football, it's his life."
Having joined Motherwell on a free transfer after leaving Leicester City in summer 2017, Kipre left in a £1 million transfer to Wigan in August 2018. A sell-on clause shrewdly inserted by the Motherwell board means the Fir Parkers will get a cut of the transfer fee if Kipre joins the Hammers or anyone else this summer.