Recent signing Jamie-Lee Smith eyes success with Motherwell Ladies FC
Recent Motherwell Ladies signing Jamie-Lee Smith is aiming high for whenever football returns from the coronavirus sabbatical, writes Joshua Bunting.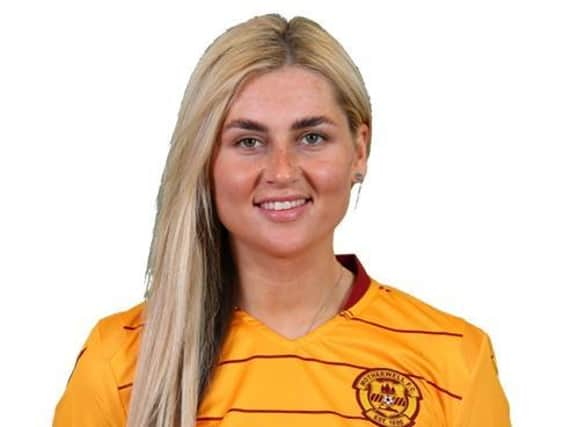 Defender Smith, a former Scotland under-16 international, said, can't wait to get back into SWPL1 action having last played in March.
She said: "When the league is up and running my personal hope is to do what I can to help the team finish high up and help them win titles by working hard and being determined.
"We have a strong group of players and I think we will do really well if we work together."
Smith, who has also featured for Spartans, Hearts and Hibernian, is delighted to be working with Women of Steel gaffer Eddie Wolecki Black.
She said: "Joining Motherwell was a new challenge and a fresh start with playing under a great coaching staff and training and playing alongside great players who had come from teams like Rangers, Celtic and Glasgow City.
"I want to win some cups and league titles as that's every player's dream.
"My favourite football memory so far is definitely playing for my country and getting Player of the Match against Holland – who are a fantastic side – and also scoring a header against Wales.
"The toughest opponent I have played against is either Holland or Germany country wise and club wise is probably Liverpool.
"I got into football because I was just like a little boy when I was younger, I was such a tomboy and I played football with the boys and just really enjoyed it.
"My cousin also played for Hibernian Ladies at the time and Hibs are the club I support so just really wanted to do that. I've always followed Cristiano Ronaldo as a player and practiced some of the foot work he does during games and I always used to enjoy learning the new skills."
Smith is delighted women's football is becoming more popular, illustrated by the huge interest in last summer's World Cup.
She added: "I think the women's game is growing stronger every year because more people are understanding we are just as good as men.
"More games are being shown on television and there is more advertising on social media and BBC news and Alba.
"I think the women's side getting to the World Cup was a massive thing for us as the men haven't achieved that in a long time and we did really well to get to France.
"There's more girls playing because of the new opportunities as it's now becoming a professional game.
"My advice for any up and coming footballers is that hard work beats talent. Aspire to be the best and reach for the stars."