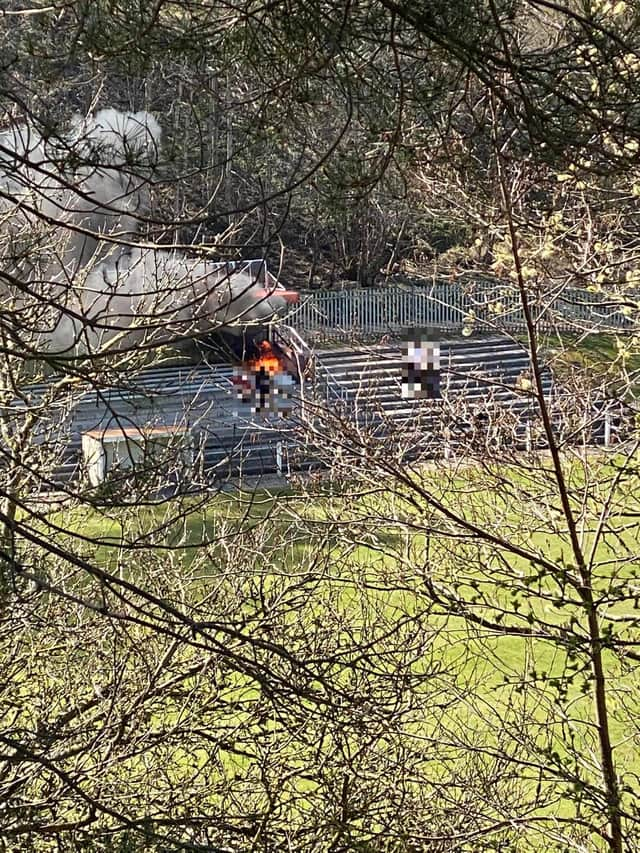 Smoke engulfs the stand at Lesmahagow Juniors as fire rages
Between 2pm and 3pm last Thursday, April 22, vandals are believed to have used bits of wood and a tyre to set alight tin stairs on a stand only erected late last year and which has never housed spectators due to coronavirus restrictions.
Lesmahagow Juniors legend Robert Irving, who recently resigned as 'Gow manager after five years in the hotseat, told the Carluke and Lanark Gazette: "They set fire to the near side, just as you enter the stand from the terracing side.
"We're lucky some passer-by phoned the fire brigade, which actually curtailed the damage of the fire.
Robert Irving resigned as Lesmahagow Juniors gaffer last month (Pic y Roberto Cavieres)
"There was damage done to a corner and it's more the smoke has stained the stand.
"I'm disappointed for the people behind the scenes who have worked for nearly two years to get the stand erected.
"Eric Watson, Adam McLuskey and Tam Mair attended numerous meetings to get funding and a lot of hard work went in, all voluntary as well.
"We finally got the funding to get the stand erected and these young ones feel it's right to set fires in it, I just don't get it. We're looking at installing some cctv there because this can't continue.
"It's just a sign of the times we live in. A lot of clubs at our level are getting bother with vandalism just now.
"But rather than being angry with the people doing this, I would rather put a message out to the young ones saying: 'Look, if you want to come down to our training, mix in with the players and get to know what we're all about and what we're trying to do to the community, you can' .
"Then we'll maybe not get the vandalism that we're getting.
"The boys that did it, I would like them just to turn up one night at training, there will be no questions asked. We will kit them out with their stuff, footballs and they can join in the training with no hard feelings.
"That goes for anyone that is hanging about with nothing to do."
Lesmahagow will soon be back training on Monday and Thursday nights from 7pm to 9pm, with Monday, May 17 the first date.
Robert, 54, hopes the fire perpetrators will take up his offer to attend training as what they did was "bang out of order".
He added: "I was that age as well away back in the day and we were bored and fed up, but we didn't go about setting fire to other folks' property.
"We would kick a ball about. So if these boys are fed up and they've not got a ball to kick about, we'll give them a ball to kick about.
"They've got the balls to set fire to a new stand, have they got the balls to come to training and actually face us?
"We'll try and help them.
"We're making this gesture because I think that is just the way the club is and the folk that run it.
"There is no aggression towards the stand getting burnt down.
"We understand that there's not much in the community.
"Lesmahagow is fairly deprived to be honest with you in terms of things to do.
"But I'm not saying that gives them the right to go about setting fire to things because back in our day, 40 years ago, there wasn't much in Lesmahagow either.
"We occupied ourselves by doing things and it certainly wasn't vandalism."
In the wake of the vandalism, South Lanarkshire Council is being lined up to authorise a repair of the stand, clearing it from smoke damage.
Robert remains hopeful that – subject to government easing of Covid-19 restrictions – the stand will be suitable for housing the return of fans to 'Gow matches from this summer.
"There is plenty social distancing at Craighead," Robert said. "It's not as if we get 100,000 folk in there!"