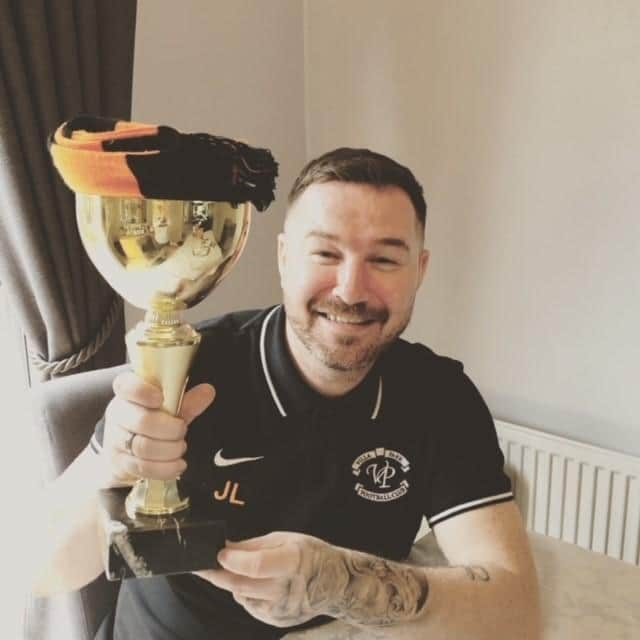 Martin Compston, who plays DS Steve Arnott in the hit show Line of Duty that drew more than 12m viewers for its recent Season Six climax, joined John McGinn, Belgian boss Roberto Martinez and James McFadden to inspire Glasgow's UEFA Euro 2020 volunteer team as they prepare to stage four matches at Hampden next month.
The A-listers engaged with the volunteers in an exclusive training video designed to inspire and motivate the 'team behind the team' as they begin their preparations.
In stark contrast to his day job as a Financial Crime Investigations Officer, Jamie – who has a track record of using football to engage his community by coaching and holding a place on the board of local grassroots club Villa Park FC - will add to his experience in sport by assuming the role of a Venue Management Volunteer at Hampden Park this summer.
He said: "Finding out I had been selected as a volunteer was absolutely overwhelming. I was so pleased and privileged to be able to be given the opportunity to help."
"As the final countdown begins, I am getting that bit more excited where I can't stop telling people that I'm a part of the Euros."
With easing restrictions on course to enable up to 12,000 supporters to attend matches at Hampden Park and across the multi-city tournament, the organisers are delighted that so many of the volunteers from the initial application process are now able to participate in the training programme.
Highlighting the importance of volunteers, Line of Duty star Martin Compston, said: "They are the face of Scotland and the face of the tournament – the point of contact for so many people. For all these volunteers who are making this massive operation behind the scenes a reality and making all of us relaxed so that we can just sit down and watch it on the TV – a massive thank you!
"I still in some ways don't feel like this is real, Scotland is hosting a EUROs, and Scotland is playing in it. To say you're going to be a part of it is something you will keep with you for the rest of your life."
Current Scotland favourite John McGinn added: "The volunteers are just as important as us to show that we are capable of hosting an event like this. Hopefully they can enjoy the experience, and this can be a highlight of what has been a difficult year and a half."
Volunteers from age 18 to 81 applied from 50 nations worldwide to play their part in Glasgow's co-hosting. Closer to home, a diverse group of people from a wide variety of backgrounds such as teachers, students, armed forces and taxi drivers applied along with 47 Scottish FA qualified referees and match officials when applications originally opened in June 2019, with volunteers taking on a variety of roles from May 2021 behind the scenes at Hampden Park.
Describing his main motivation for registering to volunteer, Jamie explained: "Being a volunteer at Villa Park and helping the children of the community has inspired me to volunteer and there is no bigger stage than the Euros. Football and bringing people together is a passion of mine where I take great pride and satisfaction from helping others.
Recruitment for the UEFA Euro 2020 Volunteer Programme remains closed, with those on the 'On The Bench Squad' i.e. the stand-by list, first in line for any opportunities that arise between now and the tournament kick-off in June.
The Host City volunteers, known as VW Mobility Makers, have also commenced their update sessions with Glasgow Life who manage the programme, in preparation for the tournament.